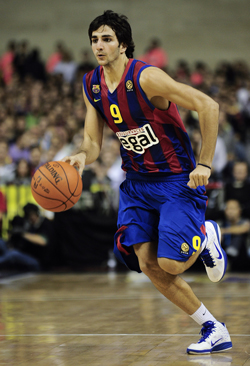 By Matt Moore
As excited as people are to see
Ricky Rubio
play in the NBA, there are questions. In particular, Rubio's frame holds a lot of concern. He's a spindly kid, and though he's nearly 6-4 and still only 21, he just hasn't filled out enough for people to feel totally confident about how he'll handle the NBA's physicality. The good news is, Rubio's aware of it. From FIBA.com:
Rubio can expect the changes to be big, both on and off the court.

"I think it will be physically harder than Europe - I will need to do more weights," he said of the NBA's playing style.
via
ESP - Rubio Ready For The Next Step | FIBA.COM
.
Rubio's considered to be a quality defender off the bat, but against bigger guards like
Deron Williams
,
Chauncey Billups
, and Even
Jason Kidd
with his muscle, Rubio will be blown back in post situations and fighting through screens. You see so many young players really start to put on muscle after a few years in NBA weight training programs, and that kind of set up will do wonders for Rubio. Those slick passes and shifty moves need some umph.
An awareness of this is a great sign for Wolves fans. It would be really easy for Rubio to play the "my game is good enough" card. We see it all the time in the NBA. But instead, Rubio's admitting to something that he needs to do to adjust. That self-awareness will help him isolate things to improve upon and not get wrapped up in himself (which has been a concern from those who have interacted with him). Additionally, knowing the NBA is going to be a challenge and he can't just waltz through it is what you want to hear from a star young player. Rubio's off to a great start with the Wolves, without having played a game, and without being able to even get inside the arena yet.