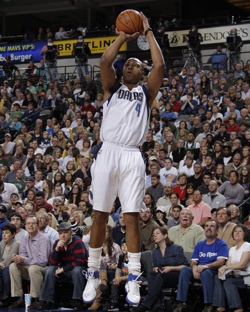 Posted by Royce Young
Caron Butler
is now an NBA champion. And a free agent. Though with both, he didn't really contribute much to either cause the last few months.
Butler had knee surgery in January which forced him to shut down his 2010-11 season early. He tried to return for the NBA Finals but just wasn't completely ready. The Mavs won without him but with quite a bit of roster uncertainty in the future, Butler being a part of that, it's a question as to what the Mavs would do with him.
But if Butler gets what he wants, he'll be re-upping long-term with Dallas.
Via ESPN Dallas
, Butler's agent Ray Brothers sees him staying for a while in Big D.
"After the championship was over," Brothers said, "[president of basketball operations] Donnie [Nelson] texted me and told me he wanted Caron to be part of the team long term."
Brothers also told NBA.com
that the lockout actually might be helpful to Butler too. With the extra time to rehab and get back to 100 percent, Butler isn't going to be rushing anything when training camp starts.
"The lockout's good for Caron Butler," Brothers said. "It gives him more time. He's already passed the time necessarily for him to heal, but he's going to come back stronger and better ... when I could talk to the (
Mavericks
') doctors, they told me that his knee's probably going to be better than it was before."
It's all about giving the Mavs confidence that he can return to form. Butler is Dallas's No. 2 or 3 option in terms of scoring and really helps fill a hole at either shooting guard or small forward. Because of the injury he might not require a hefty salary and is probably a pretty attractive option for Dallas.
Someone will pay him because he can play. Yeah, the injury might slow him down but he should recover and be back to normal.
In our free agency rankings
, we slotted him 15th, and that was really only because of injury concerns.
Butler definitely wants to return to the Mavs because it's a good team, a good market and a place with money. And if Donnie Nelson really wants Butler back, then I'm sure that's where he'll be.