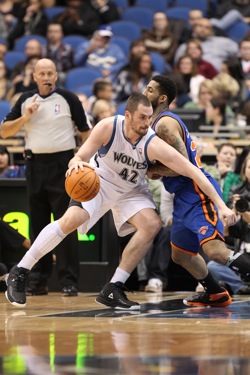 Posted by Royce Young
Sometimes people forget that players are NBA fans too. They obviously are rooting for their own team to win the most, but they watch the games, they care about who wins and doesn't and pay attention to all the biggest stories.
So with last season's no doubt biggest story being the Miami
Heat
, a lot of players had opinions on the team. And just like a lot of fans celebrated when the Heat lost in six games to the
Mavericks
in The Finals, so did players. At least so says
Kevin Love
.
Via the Sun-Sentinel
, when Love was asked by WFAN in New York if players were happy, he had no problem saying absolutely.
"Oh yeah, great amount of joy out of it," he said. "Plus, for me, they say nice guys, good guys finish last. But Dallas, they just had a slew of great guys and veterans on their team that made for just a great team.
"It wasn't just two, three, four guys on the team, like Miami I kind of felt it was.
"Around the league, it was kind of a consensus that guys were happy."
Obviously this isn't really shocking because we all pretty much knew the second LeBron said he was joining the Heat that everyone set them as enemy No. 1. Teams played them like it was a playoff game every night and the Heat were forced to take everyone's best shot. People wanted to beat them. And so the teams that couldn't were forced to just root against them in The Finals.
But what made it even easier to root against the Heat was the fact that it was pretty easy to root for the Mavericks. Dirk was chasing his first title along with quality veterans Jason Kidd, Jason Terry, Peja Stojakovic, Tyson Chandler and Shawn Marion. It was one of those teams that if they didn't get it done this time, you'd kind of have to wonder if they ever would. With the Heat, they're going to have more chances.
Love is kind of trying to say that the Mavs' victory was a triumph for team basketball, which is something every basketball purist -- like Love -- appreciates. Some probably found joy in the Heat's failure because of jealousy, some because of dislike and some for whatever reason they came up with. The Heat were the villains of the NBA last season and will continue to be.
And Kevin Love will probably have a lot more opportunities to sit at home and hope the Heat lose in The Finals. Because he plays for the Wolves, you see.