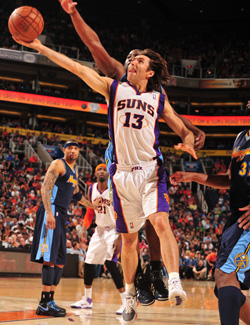 By Matt Moore
Consider it a question of morality. Yes, the business implications are strong. But at the end of the day, sometimes the best thing your business can do is conduct itself in the right way. It opens up partnerships, keeps your company in good standing, and boosts morale. So in this instance, despite how contrary to rational thought it seems, doing the right thing here is what's best for business.
The Phoenix
Suns
should do the right thing, and trade
Steve Nash
.
It's not a new idea; it's been discussed in length. But it bears repeating, and a look at the economic reasons why.
In the Arizona Republic, Suns GM Lon Babby is quoted as having studied the impact of rebuilding on franchises. The results were not pretty.
Babby and other team officials have examined the history of teams that, like the Suns, stalled at the conference-finals level and then had to decide whether to keep their core players together or tear up the roster. What they discovered: Teams that embarked on a massive rebuilding project took an average of 10 years to get back to the conference finals.

"And there's a lot of pain that goes into it," Babby said. "You're putting yourself in the hands of ping pong balls."
via
azcentral.com blogs - Scott Bordow - Business factors into Nash decision
.
This is relatively obvious logic. You mean tearing down the remnants of the success that you've built and suffering through years of failure in order to build around draft picks which are only acquired with a terrible record is painful? How about touching a hot iron with your bare hand? That sting a bit?
Little sensitive, just around the edges?
Of course rebuilding is painful. If it wasn't, everyone would go through with it a lot more and be much more excited about it. Also, no one would get fired over it, which would save franchises several millions of dollars in paying out the remainder of contracts. Not, you know, $300 million to prevent the lockout,but hey, every penny helps.
But what's overlooked in the study is this.
Everyone has to rebuild. Death comes to us all, and the end of contention comes to every team. The
Lakers
actually went through a near decade without contention in the 90's. Granted, they've spent the rest of the time pretty much skirting the laws of inevitability, but you can't expect the Lakers to play by the rules the rest of the NBA observes. They're just special. The
Mavericks
have contended for ten years, and finally won their title, which will likely convince Babby to hang on. But the Mavericks had the same management in place (read: Cuban), and benefitted from a series of fortunate events. They never missed the playoffs. The Suns are not the Mavs.
No, instead the Suns face a worse situation. There is a scenario considerably worse than rebuilding, purgatory. It's when teams elect to continue trying to plug in pieces following the downslide of a roster, continually throwing veterans who can no longer contribute at the level of their prime but suck up the same amount of salary space, or mid-level players hoping one will suddenly bloom into an All-Star. It's expensive, it's ineffective, and it usually has the habit of depressing fans to the point where they bail on tickets.
(Orlando fans, you'll want to get something for that ear bleed you have going.)
That's what slows down rebuilding projects. Yes, rebuilding takes a long time and is painful, if you do it ineffectively. Meanwhile, if you commit to it, if you throw your system into it, within three years you have a team that people are excited about that makes the playoffs. It's not just the
Thunder
, it's countless teams that have effectively restructured their rosters. Rebuilding is like anything else. If you do it poorly, you won't be pleased with the results.
Keeping Nash guarantees that fans will keep coming out to see the team, until the team gets bad enough to where not even that impresses them. It keeps the Suns following ideas like "let's trade for
Vince Carter
and
Marcin Gortat
, that'll save us!" and "maybe when we get lots of cap room we can get a big free agent to play with Steve Nash, someone like Amar'e Stoude...oh." It also wastes the final years of a Hall of Fame player who has given the franchise nothing but his unending loyalty and MVP performances. Moving Nash kills two birds. It lights a fire under the franchise to find a new direction, even if that takes some time to pull off, and it does right by affording him an opportunity to pull a
Jason Kidd
and win a ring in his final years to cement his legacy.
Sometimes the right thing is the best move, even if it hurts to do it.