Posted by Ben Golliver.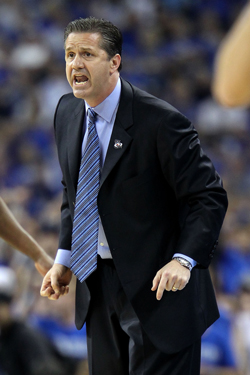 The University of Kentucky's basketball program is practically a professional program already, spitting out lottery picks in large quantities year after year.
But some of those lottery picks are coming back home and their presence could take the school's basketball program up another notch.
Kentucky coach John Calipari
tweeted on Thursday night
that three NBA point guards who played for Kentucky will head back to Lexington if the lockout continues. "John Wall,
Rajon Rondo
&
Eric Bledsoe
all plan to enroll in the fall if the lockout continues," Calipari tweeted. "Kaboom!"
Kaboom, indeed.
KentuckySportsRadio.com reported
that the move could allow the trio -- point guards for the Washington
Wizards
, Boston
Celtics
and Los Angeles
Clippers
, respectively -- to get some court time in with the current Wildcats. "Calipari announces that
John Wall
, Eric Bledsoe and Rajon Rondo will all enroll at UK in the fall if lockout proceeds," the site reported. "What does that mean? Well, Wall, Bledsoe and Rondo are all eligible to be "Student Assistant coaches", which means practice with the team... Wall, Rondo and Bledsoe would have to be full-time students to be Student Assistants, but rumor is that is the plan."
A Lex18.com report
quotes free agent forward
Tayshaun Prince
saying other NBA players could be following suit.
"Whether it's mid to late August or early September, I think some guys will start to roll in," he said.

Prince said he plans to spend more time in Lexington later in the summer and in to the fall and winter, if the NBA remains locked out. Brandon Knight - Prince's teammate in Detroit who was at the camp Thursday - said he plans to return to Lexington in late August or September. The two don't figure to be the only pros around campus.

"I think you're going to see over the next few months here that guys are going to start rolling in, doing workouts and things like that just because the relationship [Calipari's] putting out there with guys that he didn't coach but at the same time is building relationships," Prince said.
There are a lot of winners in this unique situation.
First, any NBA player who goes back to complete work on his degree is automatically a winner. Kudos to Wall, Rondo and Bledsoe for considering that step even after each has banked millions of dollars. That these three have chosen to do that while finding a home to work on their game and stay fit is a no-brainer, win-win.
Calipari, of course, is a winner, as the presence of an All-Star point guard, a Rookie of the Year candidate and a promising future starter on campus and in the gym only raises his already insanely-high profile as a mover and shaker in the basketball world and provides his current roster, which sports four potential first round picks in the 2012 NBA draft, with elite leadership and competition. Kentucky freshman point guard Marquis Teague, in particular, wins here too with three new mentors. Who better to answer his freshman questions than Wall, Rondo and Bledsoe?
The losers here are anyone that still believes in the purity of amateurism as well as any coaches that have to compete with Calipari for NBA-ready recruits. His factory just gets more and more refined by the season. Love him or hate him, his innovations and ability to find a competitive advantage are remarkable.