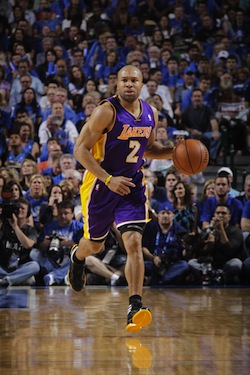 Posted by Royce Young
It's been 30 days since NBA owners locked out their players. And that thirty days has been filled with, well, a lot of
nothing
.
No more negotiations. No meetings, or at least important ones. No noise from either side about what needs to be done. No posturing, slandering, mudslinging or whatever. As NBPA president
Derek Fisher
told ESPN LA
, the lockout has been "weirdly quiet."
"It's been long, but it's been weirdly quiet," he said. "To push as hard as we did in the month of June to see if we could get a deal done prior to July 1, it's essentially been crickets since then."
According to reports, a bargaining session is scheduled for sometime this week,
though Ken Berger of CBSSports.com says
not to get too excited about this one. Not much will happen most likely, but the good news is that there is finally a little noise. Something is much better than nothing. In a lockout, the silence is defeaning.
The two sides will reconvene 31 days after the lockout began. In the shortened season of 1999, it took 45 days for the sides to get back to the table. I'm taking that as a good sign.
Fisher also made a quality point that sets up the future negotiations well, saying that it's been a bit overlooked how the players compromised quite a bit in scaling back their take of Basketball Related Income from 57 to 54 percent. But instead, all we hear about is hard caps and guaranteed contracts.
"If, as players, we feel we can operate under a fair system, then we can maybe work towards a fair number," Fisher said. "I think our counterparts feel a little bit differently, they want to get a number set and they're not as concerned with the way the system looks if they get the right number. We don't think that's the best way to approach it. We want to make sure we keep a fair system in place for all players now and coming in later and I think the numbers will kind of take care of themselves.
"It's more about getting the process started again," he continued. "Kind of rolling the sleeves back up and starting to do the hard work that it's going to take to try and get something done between now and October 1st or when the start of training camp would be. I don't know if there's going to be any major movement on Monday."
No major movement is a bummer, but at least there's going to be some dialogue. Hard to get any closer to something when you're not even talking.