Posted by Ben Golliver.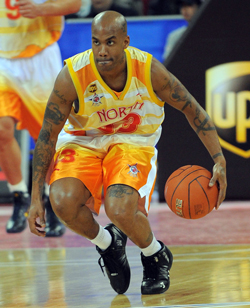 The
Stephon Marbury Story
is a long, winding tale with chapters upon chapters of difficult to believe vignettes and episodes. Remember the time he ate vaseline on a live internet video stream? Remember those times he gave rambling, incoherent interviews about his relationship with God?
And, of course, remember the time back in 2006 when he launched Starbury sneakers with the goal of making ultra low-cost basketball shoes available to the wider public. That one was an excellent idea, at least morally, but it didn't quite work out. Marbury bounced to play basketball in China and we didn't hear much more about them, especially after Steve & Barry's, Starbury's main retail partner,
went bankrupt
.
Well,
Deadspin.com now reports
that Marbury now faces financial problems with regard to his apparal company too, as there in an "ongoing case in Montgomery County, Ohio, in which an affiliate of Wachovia/Wells Fargo is suing" Marbury for more than $16 million.
The balance due and owing on the Note, as of September 11, 2010, is the principal balance of $16,063,179.49, together with default interest, late charges, sums advanced for the protection of the Property, attorney's fees, and all other sums due under the Note, the Mortgage, and other applicable loan documents.

Essentially, Marbury guaranteed a $16-million loan to Starbury, the company. Starbury the company hasn't paid the loan back, so now Starbury the former Knicks point guard has to. The collateral he put up for the loan only covered a small part of the judgment against him.
Basketball-Reference.com reports
that Marbury's career earnings topped $151 million, so he should be totally cool to pay this back without any problem. Um, maybe. Hopefully?
Marbury, 34, still plays professionally in China, for the Foshan Dralions. He was the MVP of the Chinese Basketball Association's All-Star Game in 2010.
He averaged 19.3 points and 7.6 assists in a 13-year NBA career that included stops with the Minnesota
Timberwolves
, New Jersey
Nets
, Phoenix
Suns
, New York Knicks and Boston
Celtics
.