Posted by Ben Golliver.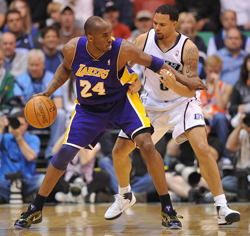 Could all this
Kobe Bryant
to Turkey talk turn out to be just talk?
Both NBA.com and Yahoo! Sports reported on Sunday that there is a "zero percent" chance Bryant plays for Besiktas -- the Turkish professional team that
agreed to sign
New Jersey
Nets
All-Star point guard
Deron Williams
and has been
actively pursuing Bryant for weeks
-- during a work stoppage caused by the ongoing NBA lockout.
Here's
NBA.com's report
on Twitter.
Source: Kobe Bryant has not spoken with Turkish team in 2 wks. Current chance he plays there in fall: "zero percent." Source does indicate Bryant would consider overseas options if lockout continues.
Here's
Yahoo!'s virtually identical
report on Twitter.
Source says Lakers' Kobe Bryant hasnt talked to Turkey Besiktas in 2 weeks & currently there is a 0% chance he goes there... Source added Kobe is considering other overseas options is lockout doesn't end.
The dual reports come just one day after Bryant was
reportedly scheduled to meet
with Besiktas officials.
As we've noted before, Bryant's age, injury history and the $83 million set to be paid to him by the Lakers over the course of the next three seasons work against him playing professionally in a competitive league during the lockout.
Pursuing Bryant was a high-reward and no-risk situation for Besiktas. Tying their club name to a player of Bryant's stature only increases the club's profile. Besiktas doesn't need to worry about catching backlash over a failed effort because it already has Williams waiting in the wings. Landing Bryant would have been incredible -- a globe-stopping move, at least in the basketball world -- but life will go on for the club.
As will, surely, negotiations between Bryant's representatives and the other clubs and interests looking to get in on the action. Whatever that action might be.