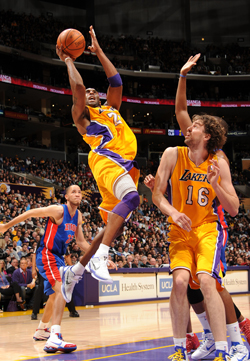 By Matt Moore
Kobe Bryant
is definitely your newsmaker of the month. After reportedly telling those close to him that there is a "
zero percent chance
" that he plays for Besiktas in Turkey next year,
then scoring a goal on a PK in a charity soccer game
, the Black Mamba
sat down with ESPN's SportCenter
for an interview. He was asked about the ridiculous amount of attention that has been heaped on
LeBron James
, most of it negative. Here's what he had to say about most hated NBA player of his time, from IamaGM.com:
George Smith: There was a lot of venom towards the Heat and, in particular, towards LeBron James What did you make of that?

Kobe Bryant: I think people need to lay off that kid. That's what I think. I've gotten to know him pretty well playing with the Olympic team. I think people need to just back-off off him. Just let him play. Let him live his life. Let him make his decisions. Let him mature as a player. It's tough to be under the microscope like that all the time. So, I would like everybody to just kind of back-off off him and let him play.
via
Kobe Bryant sticks-up for LeBron: "People need to just back-off off him" | IamaGM.com
.
If anyone knows what it's like to have an absurd amount of criticism surround you because of your on-floor (and off-court) activities, it's Bryant. It's a nice departure from the public umbrage Bryant has taken with the claim of James usurping him without a single ring. James buries himself in his hole with his words and actions; he's a terrible manager of his public image despite having a team devoted to just that. But the level of vitriol surrounding James has become absolutely overwhelming and lost all perspective.
Lakers
fans are particularly effusive about their dislike of James out of a misguided sense of loyalty to Bryant, just as Chicago fans have come to hate James in comparing him to Rose, and so forth. It's unlikely Kobe's comment will somehow come as the word of the sports messiah and calm their bile, but it's a nice sentiment.
On the other hand, James has largely built this for himself. This is his empire of dirt, and until he begins to rehabilitate his image on the big stage (despite his numerous charity appearances this summer which no one will note), he'll have to keep its throne.