Posted by Ben Golliver.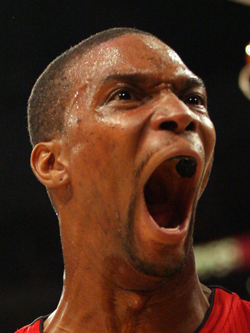 Miami
Heat
All-Star forward
LeBron James
is reportedly
not interested
in playing basketball overseas if the the ongoing NBA lockout leads to a work stoppage; Heat All-Star guard
Dwyane Wade
said he
would reportedly consider it
.
The Miami Herald reports
that All-Star forward
Chris Bosh
, the final member of Miami's so-called "Big 3", might be interested too.
Not only is Dwyane Wade open to considering overseas overtures should the lockout extend into the season, but Chris Bosh is, too, according to their agent, Henry Thomas.
Europe and Asia just exchanged glances with each other and then simultaneously blurted out, "No, thank you, we're good."
In just one season in Miami, Bosh emerged as the third wheel of the group. While all three are All-Star talents making comparable sums of money, James and Wade are significantly better on the court and are massively more recognizable and marketable off the court, especially globally.
Bosh is on the books next season for $16 million with steady increases through 2015-2016. In other words, he has a load of guaranteed money coming to him and jeopardizing that by playing and taking a chance with injuries would be a huge risk. That risk looks even worse because Bosh would only be able to command a small fraction of his salary overseas, as major international teams aren't exactly looking to shell out top dollar for often-mocked, second-tier star, perimeter-oriented big men.
Further, Bosh is just 27 years old and has yet to win a ring, so he's got nothing but time to wait out a lockout and start anew on another long road to the NBA Finals.
The only way a premier star with a contract situation like Bosh would go overseas is if someone gives them a "Godfather" offer, one so large that it simply can't be refused. Who is going to shell out such dough for the Heat's Fredo?