Posted by Ben Golliver.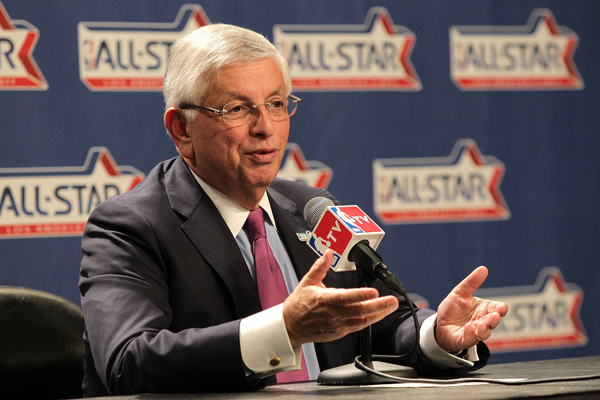 Back in February at All-Star Weekend in Los Angeles, NBA commissioner David Stern declared that his services wouldn't be worth a dollar during a work stoppage caused by the ongoing NBA lockout. "Last time, I didn't take any salary," Stern said at the time. "I think a dollar would be too high in the event of a work stoppage."

ESPN.com reports that, true to his word, Stern will not receive salary during the ongoing lockout.
NBA commissioner David Stern will not collect on his eight-figure salary during the ongoing lockout, according to sources with knowledge of Stern's pay status.

Stern has given no indication that he will agree to lower his salary when the sides ultimately do hammer out a new labor agreement that is expected to be far more restrictive for players. Yet sources confirmed Tuesday that, during the work stoppage, Stern will indeed pass on collecting a salary that, based on a New York Daily News report in February, has been estimated as high as $23 million annually.
The report comes just days after
Yahoo! Sports reported
that ownership sources say Stern makes between $20-23 million, confirming the
New York Daily News
report from February. If accurate, Stern would make more than all but one NBA player: Los Angeles
Lakers
guard
Kobe Bryant
.
On Tuesday, we noted criticism
from Philadelphia 76ers center Spencer Hawes, who openly questioned Stern on Twitter. "23 million a year for Stern, huh," Hawes wrote. "Weird no rumblings about a pay cut for the commish while he hasks every single player to do so."
The "no salary during the lockout" maneuver is a no-brainer. He made the pledge and he has to deliver. It's a solid -- although not game-changing -- public relations strategy, as the news comes while the NBA has taken criticism for
two legal complaints
it filed against the Players Association, which have been perceived as stalling tactics, and for
laying off more than 100 employees
at the league office.
But everyone -- including Stern, presumably -- would prefer that his salary was not a major topic of conversation. Of course, we wouldn't be here concerning ourselves with the executive pay issue if there was any progress being made in the ongoing labor negotiations.