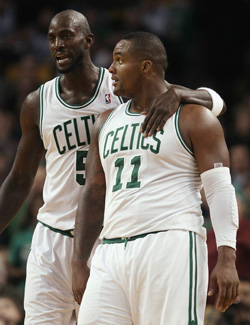 By Matt Moore


Glen Davis
had such a great regular season.
Glen Davis had such a terrible postseason.
As such, things are a little confusing as him as he sits through the lockout as an unrestricted free agent. There was a lot of talk during the
Celtics
' unceremonious exit from the playoffs about Davis' performance. He looked out of shape, lost, and failed to make a significant impact as the Celtics were thrown from the fold by the
Heat
. With
Jeff Green
's restricted free agency status assured with Boston's commitment to him, the thought was that Davis would want out just as much, after clashes with Doc Rivers and management. But at a recent appearance with
Rajon Rondo
at a charity event, Davis made it clear he wants to keep the green on. From the
Boston Globe
:
But today, Davis said he wants to come back and wants to clear any ill feelings with Ainge and coach Doc Rivers. Of course, that is impossible during the NBA lockout because players are not allowed to contact team officials.

"Most definitely that's my No. 1 priority [coming back]," he said yesterday. "See if I can come back here and play. And if can't, go somewhere else.

"I think in a lot of situations you have to air things out. Especially with a player that's growing. You've got to talk and clear things up and I think that time will come whenever the opportunity comes. I'm just trying to focus on working out."
via
Celtics' Davis considering overseas opportunities - Boston.com
.
Davis was a Sixth Man of the Year candidate for much of the season, and was a big part of why the Celtics lead the East for much of the year. But Davis tends to rely on his mid-range jumper too much, and because of his contributions to a contending team, he'll be overvalued in free agency. The Celtics may simply not have the room, especially if they plan on a big 2012 with that free agency class as many expect them to.
It's surprising to hear Davis talk so openly about a potential rift with his coach and front office, but at least he's being publicly contrite and not absolving himself of the blame. At the same time, where Davis winds up taking charges and looking goofy next year willd depend on the money, not personalities.
Interesting sidenote: The
Globe
reports Davis has lost a significant amount of weight. That could be a game changer for his free agency prospects if he can keep the weight off until free agency starts... whenever that will be.