Posted by Ben Golliver.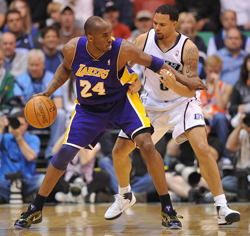 Turkish club Besiktas will not relent on its tumultuous courtship of Los Angeles
Lakers
All-Star guard
Kobe Bryant
.
Turkish media outlet NTV SPOR
reports that the club's prsident Yildirim Demiroren is scheduled to meet with Bryant and his agent, Rob Pelinka, on Thursday afternoon in Los Angeles. NTV Sport is the same outlet that broke Besiktas' agreement with New Jersey
Nets
All-Star point guard
Deron Williams
earlier this summer.
The report comes days after a source told both NBA.com and Yahoo! Sports that
there was a "zero percent" chance
that Bryant would play for Besiktas, which has been publicly pursuing him for weeks.
So what's with all the give and take, back and forth, stories changing by the minute? Most likely, this is simply a story of a millionaire athlete playing hard to get, forcing an eager suitor to negotiate against itself for his services.
Despite more than $80 million in guaranteed future salary, his age and his recent injury history, Bryant has made it clear that he wants to stay busy if the ongoing NBA lockout leads to a work stoppage.
"I'm just waiting for my phone to ring," Bryant said last Sunday,
according to ESPN.com
. "I will play anywhere."