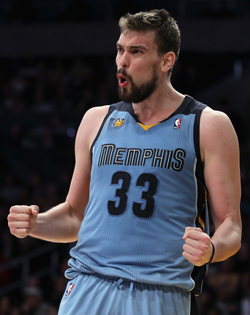 By Matt Moore
FC Barcelona is such a popular (and thereby successful) team in Spain that if anyone was going to make big strides during the lockout luring NBA players back to play, you'd think it would be them. The NBA players who have played for them, and there have been quite a few, have always spoken highly of the situation, with Juan Carlos Navarro actually preferring to stay with the club rather than remain in the NBA (and the horrible-at-the-time
Grizzlies
). But for whatever reason, it's unlikely you'll be seeing too many NBA guys playing for FC Barcelona in Euroleague next year.
Tuesday,
Ricky Rubio
said he would only return if the entire season were lost for the NBA. And on Wednesday,
Marc Gasol
told
Marc Mundet of RAC1 in Catalonia
that
he doesn't think it would be fair
to return to FC Barcelona since he would want to go back to the NBA when the lockout is over. Gasol termed that idea as "selfish" and said that's just not the way he is.
Gasol is a restricted free agent when the lockout ends and is due for his biggest payday, what will likely be a max contract (whatever that is for a player of his situation in the new CBA). It was his play that provided the backbone for the Grizzlies' playoff run, and he's considered one of, if not the best young overall center in the league outside of
Dwight Howard
. He played for two seasons with FC Barcelona after graduating high school in Memphis.
So it would appear there will not be a reformation of the 2008 Spanish national team for FC Barcelona, but the team should do fine. It routinely wins its league and is considered one of the top European clubs even without Gasol. And if the entire season is lost, who knows?
(HT:
HoopsHype
)