Posted by Ben Golliver.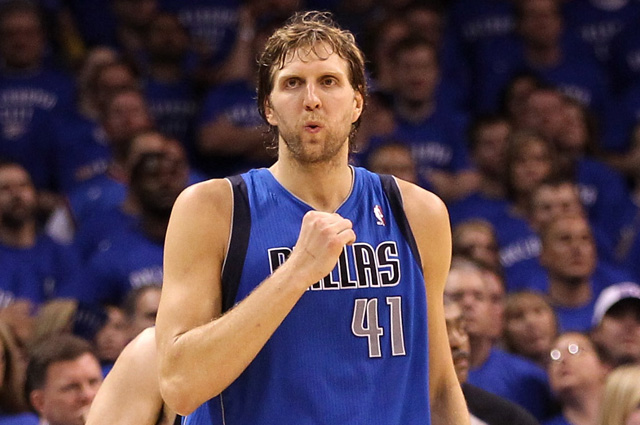 World champions get to set their own schedules.
Dallas
Mavericks
forward
Dirk Nowitzki
, fresh off his first NBA title, is in no hurry to set his plans should the ongoing NBA lockout result in a work stoppage.
ESPNDallas.com reports
that Nowitzki, who carried the Mavericks past the Miami
Heat
in the 2011 NBA Finals, is taking his time to make his plans for next season despite the fact that he's drawing interest from around the world.
Spending the week in Berlin to combine a commercial shoot with private training sessions with longtime mentor Holger Geschwindner, Nowitzki said: "I'm going to play the Euros and then see where the lockout is after that. Until then, I'm not going to look at playing anywhere else."

"I've always said I'm too old to sit around for a whole year," Nowitzki said. He turned 33 a week after the Mavs' title-clinching Game 6 win in Miami. "I still can't see this being a long lockout, but if it is I'm going to find somewhere to play."
The report also notes that German club Bayern Munich has "been chasing Nowitzki for months" and that a Chinese club has offered "more than $1 million per month" to obtain his services.
The Euros that Nowitzki is referring to is the EuroBasket tournament that runs later this month and into September. Nowitzki has
committed to representing
his native Germany.
Nowitzki's stance about playing overseas is an interesting one. He's the Mavericks' clear franchise player and has more than $60 million coming to him over the next three seasons. With that said, he's banked more than $140 million over the course of his career
according to Basketball-Reference.com
so, assuming he was able to protect most of that from his ex-fiancee, he is in a position where he can put basketball first. Nowitzki has always played with a free-flowing love of the game that's unusual for a player of his size. Perhaps we shouldn't be surprised that he so adamently opposes losing a season's worth of games. Retirement is approaching, sure, but it sounds like he's at the point where he wants to squeeze every last ounce of joy out of playing the game.
In this way, Nowitzki sounds like a less commercialized version of Los Angeles
Lakers
guard
Kobe Bryant
, who has also made it clear he doesn't want to sit around and that his talents are available to the highest bidder.
Nowitzki dealt with a finger injury and a knee injury last season so the idea of him playing overseas surely doesn't sit easy with Mavericks ower Mark Cuban or the team's fanbase. But imagine the fanfare if Nowitzki did return to Europe, even for a brief run, so soon after his NBA Finals win. It would be the stuff of legend.
Now we just sit and wait to see if it will happen.