Posted by Ben Golliver.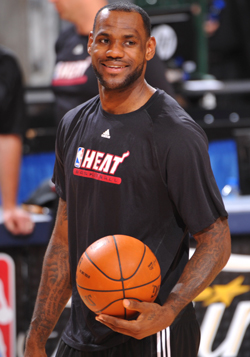 The criticism has finally become too much for Miami
Heat
All-Star forward
LeBron James
. The criticism of Denver Broncos quarterback Tim Tebow, that is.
James
took to Twitter
on Wednesday night to lash out at a television analyst critical of Tebow's skills and defend the second year quarterback out of the University of Florida.
"Tim Tebow will succeed in the NFL," James declared. "He's a hard worker, a student of the game, a natural born leader and most of all a WINNER! It takes time and he'll be nice ... The man hasn't even play a full season and its only his 2nd year in. Guys get on that TV and act like they was all WORLD when they played. How [about] encouraging him and wishing him the best instead of hating!!"
The CBSSports.com Eye On Football guys have more
here
.
Those tweets are just a goldmine for armchair psychoanalysts. Think James is taking out all of his frustration with being the most criticized player in the NBA by defending Tebow? Run wild. Think James is fed up with the NBA's broadcasting core that is filled with second-tier players taking shots at him? That will play. Think James feels that he is above criticism because no one else can play the way he does? A bit of a stretch, but definitely possible.
Before we celebrate and praise James standing up for a maligned, well-intentioned athlete like Tebow, let's not forget the complete hypocrisy in his statements.
Let's take a quick trip back to June when the Dallas
Mavericks
were stomping James' Heat in the NBA Finals. Mavericks star
Dirk Nowitzki
could be described exactly how James describes Tebow: hard worker, student of the game, natural born leader and winner. When Nowitzki was mopping the floor with the Heat did James offer Nowitzki nothing but encouragement, wishing him the best on his way to his first title?
Absolutely not. Instead, James pursued the definition of "hating", teaming up with guard
Dwyane Wade
to
mock Nowitzki for being sick
in a lame attempt to besmirch his toughness and diminish his team's accomplishments. Unable to process the fact that he was losing on the NBA's biggest stage, he copped out by trying to tear down Nowitzki, an action that spoke a lot louder than whatever critique Tebow had to endure about his game.
James certainly has received more than his fair share of criticism over the last year or so. But the media exists, in part, to provide sober -- often harsh -- judgements of athletes. Blind cheerleading is a job best left for groupies, entourages, handlers, diehard fans (should they choose) and team public relations staffs. Nobody wants to watch or listen to that.