Posted by Ben Golliver.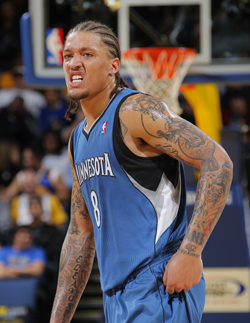 Streetball games are meant to provide in-your-face action for diehard fans. But not like this.
A number of top NBA players -- including Oklahoma City All-Star forward
Kevin Durant
and Minnesota
Timberwolves
forward
Michael Beasley
-- converged on the
legendary Dyckman Park
in New York City for an exhibition game between Team 914 and Team Nike on Thursday night.
Unfortunately, the courtside banter proved to be too much for Beasley, as
the New York Daily News reports
that one of the NBA's notorious knuckleheads decided to shove a heckler in the face during the game.
In the second half, Beasley began jawing with some fans under one of the baskets, at one point shouting "I get paid to do this!" to a section of the packed house.

One of the fans, Garland Quince, was involved in the chatter. Beasley approached Quince, who was standing behind a portable metal barrier. Beasley then "mushed" him, as Quince described it, placing both hands on his face and shoving him backward.

"He just mushed me. He mushed me in my face," Quince said. "I was arguing about a Kevin Durant call and he just mushed me in my face."

The game was stopped briefly as security guards helped the situation cool down.
Beasley has kept busy this summer, competing in exhibition and charity games across the country. And, of course,
getting busted for pot possession
back in July.
Beasley is brash, talented and self-confident to a fault. If you had to list the NBA players in order of who was most likely to get into an altercation with a fan during an exhibition game, Beasley would certainly be in the top five, along with Los Angeles
Lakers
forward
Ron Artest
, Sacramento
Kings
big man
DeMarcus Cousins
, Dallas
Mavericks
guard
DeShawn Stevenson
and Lakers center
Andrew Bynum
.
Given that the Timberwolves are the league's most dysfunctional mess, Beasley has no motivation for toeing the line during the lockout. Whenever the NBA starts up again, he'll be playing for a new coach who has yet to be hired. If he could see the bigger picture, he would realize that he will almost certainly not be worth the $8.2 millon qualifying offer that will be needed to keep him after the 2011-2012 season, meaning he should be on his best behavior so that someone not named David Kahn might be willing to take a chance on him and his horrifically inefficient volume scoring.
Update
: Here's video of the incident courtesy of
YouTube user ThePowProduction
.