Posted by Ben Golliver.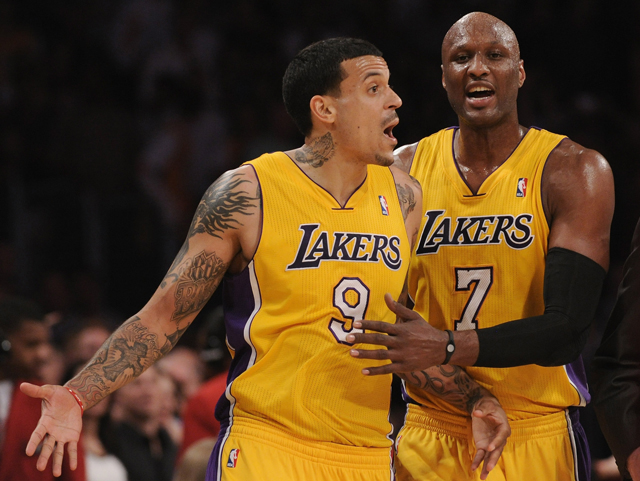 Matt Barnes
will see your fan face mushing,
Michael Beasley
, and raise you to suckerpunching an opponent.
Just hours after Beasley, forward for the Minnesota
Timberwolves
,
pushed a fan in the face
at a New York City exhibition games, Barnes, a forward for the Los Angeles
Lakers
, reportedly upped the ante at a Bay Area pro-am game.
Barnes, who was arrested on domestic violence charges
in September
and suspended by the NBA for shoving a rival assistant coach to the ground
in April
, reportedly socked an opponent in the face during a game on Thursday night.
KGO.com has more
.
Los Angeles Laker Matt Barnes got into a fight Thursday night at a Pro-Am game in San Francisco. It happened at the Kezar Pavillion during a game between Barnes's Dream Team and a team called East Bay. Barnes apparently punched an East Bay player in the face, but the refs didn't see it and Barnes wasn't ejected from the game.
In
an interview posted on TrueHoop.com
, Barnes discussed the punch.
"There's only so much I'm going to take. I'm a grown man first, so if you think you're going to come out here and rough me up and cheap shot, I'm not having that s***. He elbowed me and pushed me, so he got one. People just think they can talk any way or do anything to ... me. You can't. You can't do that, cuz you know people are men out here. So if you think you're going to come out here and punk someone, that s*** ain't happening."
Not only was Barnes not ejected, he went on to hit the
game-winning runner.
Barnes is entering the final year of his current deal with the Lakers, set to make $1.9 million in 2011-2012. He averaged 6.7 points and 4.3 rebounds in 19.2 minutes last season.
Here's video of the aftermath of the fight courtesy of
YouTube user pcnc2011
.
Hat tip: LakersNation.com
.