Posted by Ben Golliver.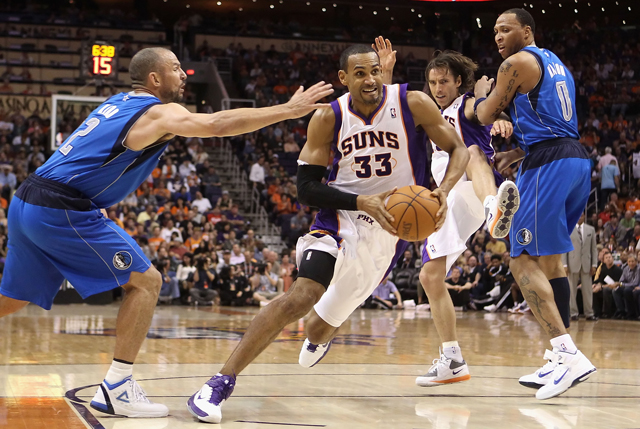 This is the third segment of the CBSSports.com Eye on Basketball Elite 100, counting down the top-100 players in the NBA.
Check out the earlier installments: 100-91 | 90-81
If you can play the game of basketball, the NBA will find a place for you, and this segment of CBSSports.com's Elite 100 underscores that point in fine fashion.
This might blow your mind: Sacramento Kings big man DeMarcus Cousins, ranked No. 77, was born in 1990, just weeks before Phoenix Suns wing Grant Hill showed up on campus for fall semester as a freshman at Duke University. By the time Cousins was in kindergarten, Hill had won two titles as a Blue Devil and was a highly-touted pro prospect, drafted No. 3 overall in 1994. As Cousins finished up elementary school and entered junior high, Hill looked like another talented NBA player robbed of reaching his potential due to injuries. By the time Cousins emerged on the national scene as a highly-ranked high school prospect, Hill was finding rejuvenation in the desert, extending his career and re-inventing his game as a member of the Phoenix Suns. A month or so before Cousins was drafted with the No. 5 pick in the 2010 NBA Draft, Hill was a key piece on a Suns team that made the Western Conference Finals.
As of last season, Cousins was the sixth-youngest player in the NBA at 20 years of age; Hill became the second oldest, one day younger than Chicago Bulls forward Kurt Thomas, after Boston Celtics center Shaquille O'Neal retired earlier this summer.
The two players contrast in so many ways. Hill graduated from Duke; Cousins went one-and-done at Kentucky. Hill has won sportsmanship awards; Cousins required a babysitter with the Kings and was suspended for fighting with a teammate. Hill hangs with United States President Barack Obama; Cousins has palled around with rapper Drake. Hill no longer has the explosive athleticism that was his calling card but has mastered every last veteran trick; Cousins possesses an incredibly rare combination of size, strength and quickness but has yet to harness his full potential.
Despite those differences both players have found their way to the NBA and to this list. Let's take a look at who accompanies them here.
80. Grant Hill, F, age 38, Phoenix Suns

2011 Stats: 13.2 points, 4.2 rebounds, 2.5 assists, .8 steals, 48.4 FG%, 14.8 PER
Composite rankings (random order): 78, 73, 87
The only modern equivalent for Grant Hill's agelessness is Halle Berry. About to turn 39, Hill has missed just three regular season games in the last three seasons, a remarkable achievement considering he played just 47 combined games from 2000-2002. Hill never achieved his full potential as a player because of injuries, but his legacy won't be stained because of that. His resolve, resourcefulness and consistency have made him a model teammate and league ambassador for as long as anyone can remember.
Hill still contributes in a variety of ways: scoring fairly efficiently, defending multiple positions and chipping in on the glass. His game is mostly floor-bound these days but that fact makes him potentially productive into his 40s.
79. Tyrus Thomas, F, age 24, Charlotte Bobcats
2011 Stats: 10.2 points, 5.5 rebounds, 1.6 blocks, 47.1 FG%, 18.25 PER
Composite rankings (random order): 95, 82, 61
Thomas is a bit of a forgotten man. That can be said for anyone that plays for the Bobcats but is doubly true in his case because he missed a fairly long stretch of last season with a knee injury.
A one-time high lottery pick, Thomas is a guy who is perpetually trying to figure it out. That fact didn't stop the Bobcats from committing big dollars after acquiring him in a trade from Chicago and it hasn't stopped him from being an excellent contributor on defense, where he blocks shots with abandon and uses his length to its full advantage. The Bobcats have cleared the decks for next season so Thomas should have every possibility to earn minutes and touches. Remarkably, he's still just 24 and his best days are certainly ahead of him.
78. Roy Hibbert, C, age 24, Indiana Pacers
2011 Stats: 12.7 points, 7.5 rebounds, 1.8 blocks, 46.1 FG%, 15.96 PER
Composite rankings (random order): 92, 91, 52
Hibbert is one of the last of a dying breed: A true back-to-the-basket center whose hulking frame and stiff game would probably have been a better fit in the 1990s. As is, he's a solid, productive player who does what's expected for a guy his size: rebounds, blocks shots and finishes plays around the rim.
Last season, Hibbert's third, wasn't all smooth sailing. He struggled with his shooting and confidence, and performed much better after Jim O'Brien was replaced as head coach by Frank Vogel. His lack of lateral quickness will likely remain an issue for the rest of his career. It's unlikely Hibbert will ever develop into a star but he's an excellent cog for a young, developing team like Indiana.
77. DeMarcus Cousins, F, age 20, Sacramento Kings
2011 Stats: 14.1 points, 8.6 rebounds, .8 blocks, 43.0 FG%, 14.62 PER
Composite rankings (random order): 84, 76, 72
Cousins was a top-10 knucklehead last year. He was benched for making a choke sign at an opponent during a free throw attempt. He was thrown off the team plane for fighting with a teammate. He was kicked out of practice. He was fined for undisclosed reasons. He was ejected from a game for shoving Martell Webster during a fracas. The list goes on and on.
There were two bigger concerns than all of that immaturity: turnovers and efficiency. Cousins committed 3.3 turnovers in just 28.5 minutes per game and shot just 43% from the field. It's not unusual for young big men to deal with those issues, though, and improvement in both categories going forward is a virtual certainty, as Cousins learns how to adjust to the NBA game, NBA officials and figures out how to best use his huge frame and excellent instincts around the basket. Despite his many flaws, Cousins' size and skill give him a chance to be a top-25 NBA player far more quickly than you might expect. The talent and potential are there, lurking beneath the surface.
76. DeMar DeRozan, F, age 21, Toronto Raptors
2011 Stats: 17.2 points, 3.8 rebounds, 1.8 assists, 1.0 steals, 46.7 FG%, 14.52 PER
Composite rankings (random order): 80, 49, unranked
We're supposed to keep the rankings anonymous but in this case I feel compelled to confess: I did not rank DeRozan in the top-100 nor do I think he belongs here. He was an inefficient scorer with no range playing on a terrible team last season, one of the least valuable things you can be.
Still, his presence on this list speaks to his upward career trajectory. DeRozan used his ridiculous leaping and finishing abilities to double his scoring average from his rookie year last season, putting up 17.2 points per game. He also boasts the physical tools – size, length, quickness – to be a plus-defender. He's really held back by his lack of three-point range, though, and he will continue to be an incomplete offensive player until his spot-up shooting is at least passable. His highlight reel capability, solid personality and pure marketability make him a bright spot on a roster that needs them. His hard-working, positive approach on a day-in and day-out basis make him especially intriguing to watch develop over the next 3-5 years.
75. Shawn Marion, F, age 33, Dallas Mavericks
2011 Stats: 12.5 points, 6.9 rebounds, 1.4 assists, .9 steals, 52.0 FG%, 17.09 PER
Composite rankings (random order): 67, unranked, 58
2011 was such a dream season for Marion that he will forgive us for vastly underrating him on this list. A do-everything forward long known best for his unorthodox and downright hideous jumper, Marion was a crucial piece to the Mavericks championship puzzle.
Marion was big on both ends, using excellent shot selection and an underrated post game to get his points, while rebounding at a solid clip for his position. He shined brightest defensively as he was part of a corps of Mavericks defenders that limited some of the league's elite scorers during the posteason: Kobe Bryant, Kevin Durant and LeBron James, to name a few. His unwavering confidence was crucial, too, especially when the Mavericks fell behind the Heat in the Finals. He never gave up and neither did Dallas.
74. Anderson Varejao, F, Age 28, Cleveland Cavaliers
2011 Stats: 9.1 points, 9.7 rebounds, 1.5 assists, 1.2 blocks, 52.8 FG%, 15.21 PER
Composite rankings (random order): 76, 56, 92
Varejao became a permanent starting player for the first time in his career after LeBron James, Shaquille O'Neal and Shaquille O'Neal departed during the summer of 2010. He rose to the challenge nicely, posting career highs in points, rebounds and blocks until a foot injury prematurely ended his season.
Best known as an energy guy, Varejao has double-double potential now that he's in his prime age years and playing on a roster that needs every ounce of production that he can provide. Just about everyone would like to see him traded to a contender so his hustle, defense and heady play can impact postseason games. The Cavaliers, to their credit, realize the asset they have and seem to be hoping he can help lead their rebuild.
73. Danilo Gallinari, F, Age 22, Denver Nuggets
2011 Stats: 15.6 points, 4.9 rebounds, 1.7 assists, .8 steals, 41.4 FG%, 15.71 PER
Composite rankings (random order): 99, 37, 86
The young Italian was a key piece in the package that landed All-Star forward Carmelo Anthony in New York. He's a long, silky perimeter player with shot-making ability and a desire to deliver in the clutch. Given his height, 6-foot-10, his rebounding contributions are not overwhelming and he'll need to continue improving to approach his ceiling as a player.
Gallinari is tantalizing, more than anything, given the fluidity of his play at his size. There are plenty of questions to be answered in Denver – especially concerning the future of Nene and J.R. Smith – but Gallinari's youth provides hope should there be widespread defections in free agency. He won't ever replace Anthony but he won't cost nearly as much, won't demand as many shots and he is unlikely to hijack the franchise for the foreseeable future. That package is worth something, for sure.
72. Devin Harris, G, Age 28, Utah Jazz
2011 Stats: 15.2 points, 7.1 assists, 1.0 steals, 42.2 FG%, 17.22 PER
Composite rankings (random order): 66, 69, 86
A big guard with a solid skillset, Harris needs to shake the "loser" label and questions about his durability that developed during his time in New Jersey. He was perceived as the best player on a 12-win team and that's never, ever a good thing for a player's legacy and reputation.
Still, Harris gets a fresh start in Utah, as he was traded to the Jazz in the deal that sent All-Star guard Deron Williams to the Nets. Utah is clearly in a rebuilding, find-itself phase now that Williams is gone and it's no guarantee that Harris, who is theoretically entering his prime, is necessarily their point guard of the future. We will learn a lot about Harris in 2011-2012.
71. Jameer Nelson, G, Age 29, Orlando Magic
2011 Stats: 13.1 points, 6.0 assists, 1.0 steals, 44.6%, 15.47 PER
Composite rankings (random order): 72, 82, 66
Nelson has a lot going for himself. He's tough, scrappy, productive, has three-point range and is on a reasonable contract. Nelson can beat his man off the dribble for the drive-and-kick or stretch the defense as a knock-down shooter. He isn't a star, though, and that's what Orlando needed last year. Indeed, a second star is what they need next year too if center Dwight Howard is to remain in town.

Nelson's turnovers and his lack of size and elite athleticism prevent him from really serving as a game-changer offensively and occasionally make him a liability defensively. Right now, Nelson falls into the fairly wide category of "too talented to dump, not good enough to get real value in return."