Posted by Ben Golliver.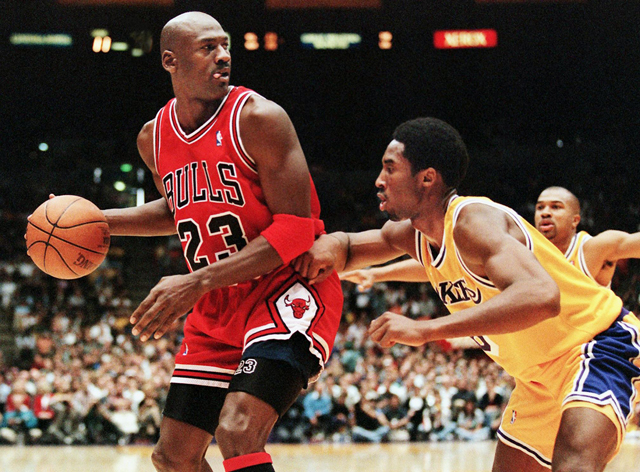 We live in an immediate society. The internet, social media, the ever-accelerating news cycle, everything means that the next 30 seconds is 10 times more important than the last 30 seconds regardless of what actually happened in the past 30 seconds. As a result, we lose perspective on what stands truly relevant from the past. The NBA is no exception. So in an attempt to merge the two worlds (since, as a blog, we love/hate/want to be BFFs within the next 30 seconds), we'll be bringing you a look at players past and present, in relation to one another.
Previously:
Isiah Thomas vs.
Chris Paul
|
Larry Bird vs.
Dirk Nowitzki
Now up: Michael Jordan vs.
Kobe Bryant
--------------------------
We were all so busy gleefully burying the Miami
Heat
after they lost to the Dallas
Mavericks
in the NBA Finals that we missed out on acknowledging a crucial bit of basketball history: The 2010-2011 season will likely go down as the year Los Angeles
Lakers
guard Kobe Bryant saw his best argument for becoming "Better than Michael Jordan" slip away for good.
When we talk numbers, awards, memories, legacy and fame, the Jordan vs. Bryant debate is dead on arrival. Really, debating Jordan vs. anyone in these categories isn't worth the time. Jordan's statistics are absurdly better than Bryant's; his switch-hand lay-up, shoulder shrug and stepback jumper to beat the Utah
Jazz
all trump any Bryant highlight; he was a significantly bigger worldwide star and one of the single greatest forces in globalizing the game; the Jumpman logo only becomes more ubiquitous by the year. Bryant has scored fewer points, grabbed fewer rebounds and dished fewer assists per game both in the regular season and the playoffs. He's sold fewer sneakers and touched fewer hearts. He's won fewer MVPs, Finals MVPs and scoring titles. There's not much argument.
Honestly, Bryant doesn't really deserve to be mentioned in a debate with Jordan, except for one fact: he had the chance to accumulate more titles. Winning in bulk will always get star players put up on a pedestal.
Because Bryant skipped high school and didn't take two seasons off to play baseball, his argument for toppling Jordan has always relied on accumulation. He stands a very good chance of finishing higher than Jordan on the all-time points list, for example, an accomplishment he has reportedly been eying. But educated fans and the populous at large will both see through that accomplishment and conclude that more total points doesn't mean a better player. Not when Jordan averaged roughly five points more per game than Bryant over their careers and eight points more per game in the playoffs. Not when Jordan shot more than four percent better from the field for their careers. Not when Jordan's best scoring year (37.1 points per game in 1986-1987) was better than Bryant's best scoring year (35.4 points per game in 2005-2006). Not when Jordan won 10 scoring title's to Bryant's two. Not with Bryant getting essentially a five-year head start on accumulating thanks to Jordan's years in college and in the Chicago White Sox organization. When Bryant passes Jordan on the scoring list it will stand as a testament to his durability, consistency, determination, pure scoring instinct and will. But it won't make him better than Jordan.
(Career statistical comparison courtesy of Basketball-Reference.com, click image to enlage)

Instead, Bryant will get lumped in with two other great accumulators: Lakers center Kareem Abdul-Jabbar and Utah Jazz forward Karl Malone. Both sit above Jordan on the all-time list. Neither player is seriously and regularly mentioned in the conversation as the Greatest Of All Time, and neither is considered in Jordan's league as a pure scorer.
It's not the scoring accumulation that would have propelled Bryant past Jordan. It was the accumulation of titles. And how quickly the narrative on that front has changed.
Bryant and the Lakers entered the 2011 playoffs intent on capturing the sixth title of his career. That number would have equalled Jordan's mark, but winning this year wouldn't have been enough to push Bryant past Jordan in this debate. Anyone coming to claim the throne has to make an overwhelming case for it. Bryant can't just match the level of greatness, he has to surpass it in such a way that his actions created the momentum needed to change minds and opinions that have been fixed for more than a decade.
Unfortunately, Bryant has to deal with some undertow on the winning front. His Lakers twice lost in the Finals, first to an over-achieving Detroit
Pistons
team and later to a hard-nosed Boston
Celtics
team. Jordan, of course, was a perfect 6-0 in the NBA Finals. Not only did he never lose a Finals, much less lose one in five games like Bryant did, Jordan was never even pushed to seven games.
It's not just the losses that count against Bryant. Some people hold the early wins against him, too. After all, Jordan never had or needed a dominant center like Shaquille O'Neal to win his titles. O'Neal was the Finals MVP for each of Bryant's first three titles while Jordan was the MVP for all six of his wins. Although it's not totally fair, because winning is winning, Bryant's second fiddle role early on works against him in the historical debate.
(Playoff statistical comparison courtesy of Basketball-Reference.com, click image to enlage)

To overcome Jordan's 6-0 record and six Finals MVP, Bryant needed to accumulate an overwhelming case. And that's precisely why this year was so important. Had the Lakers taken home the title, Bryant would have his six rings as he approaches age 33. Jordan played until he was almost 40 but Bryant likely doesn't have that many years left. Assuming he can hang on for another four or five seasons, though, there would have been a very decent chance that he could pull one, if not two, more titles out of the hat. Bryant had a chance to go heights that not even Air Jordan had ascended.
Getting to a career Finals record of 8-2 with five Finals MVPs would have been ideal. It would have stood as a testament of Bryant's ability to win with a variety of teammates and at all different points of his career. The extra rings would have made up for the Finals slip-ups and his MVP total would have put him in Jordan's ballpark. Ultimately, eight rings would have left him being considered as the game's second greatest winner all-time, behind Boston Celtics center Bill Russell. It would have helped address the questions about him being a "gunner". It would have buried all the arguments about his ego fracturing the early Lakers and it would have diminished the role that O'Neal played in his overall career accomplishments. Most importantly, it would have put real distance between himself and Jordan. Jordan diehards respect winning and Bryant simply would have won more than Jordan, by a significant amount.
That narrative got wrecked hard, though, thanks to a coordinated attack from the Dallas Mavericks and a dual meltdown by
Ron Artest
and
Andrew Bynum
. Bynum didn't just send J. J. Barea tumbling to the floor with his cheapshot, he flung Bryant's "Better than Jordan" resume into a bonfire.
With the Heat and
Thunder
clearly rising and the Lakers againg -- and seemingly fracturing -- this offseason, there are real questions now about whether Bryant will get another crack at a title. It's hard to bet totally against his chances, what with the Lakers making the NBA Finals in seven of the past 11 seasons, but his winning ceiling has been lowered, without question. He might get another one, but there's no way he's getting three, not even if the Lakers pull off a transformational trade for a superstar.
We haven't seen Bryant's last days, not by a longshot, but his legacy is now all but secure. Top-10 all-time NBA player. Second best two-guard.