Posted by Ben Golliver.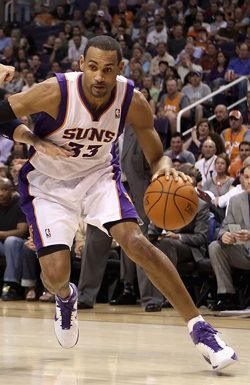 A few weeks back
, we noted a report that said the Miami
Heat
will target free agent forward
Shane Battier
.
On Sunday,
the Miami Herald reports
that the Heat are interested in another defensive-minded, perimeter-oriented veteran: Phoenix
Suns
forward
Grant Hill
.
If the Heat cannot sign preferred choices Shane Battier, Grant Hill or Tayshaun Prince postlockout, Miami will consider Michael Redd and Tracy McGrady, among others.
Hill fits with the Heat in much the same way that we wrote his Duke brother Battier would.
Battier is a versatile, intense, tough defender who enjoys playing on that side of the ball. He embodies the culture that Spoelstra has tried to instill in Miami, one in which the offense flows from defensive effort. Battier is super intelligent, known to pour over scouting reports, and he would be a fit with Spoelstra's advanced stat-influenced approach as well. It goes without saying that Battier is unselfish on offense, not needing shots or touches to get his game going. He's a solid rebounder for his position and is a 38.5% three point shooter. All of those attributes fill a need for the Heat, who are building around the ball dominance of Wade and James.

Further, Battier would relieve some of the regular season pressure on either Wade or James, able to defend top-level perimeter scorers for long stretches without help, something no one else on Miami's roster was capable of this year.
Hill shot 39.5% from deep last year and took 10 shots a game last season with the Suns. His touches would diminish in Miami, certainly, but like Battier he couldn't care less about that. He just wants to win.
Much has been made about possible
Steve Nash
trades that would find him moved to a contender. The Suns are going nowhere and Nash deserves one or two last runs at a ring.
The same holds for Hill, who is one of the NBA's oldest players and elite ambassadors. It took Hill, who was
recently ranked
the No. 80 player in CBSSports.com's Elite 100, 15 seasons to win an NBA playoff series. Sure, the Phoenix medical staff has done miracle work to rejuvenate his career after a string of injuries nearly cut his playing days short, but Hill, a two-time NCAA champion and an Olympics gold medal winner, needs another good shot at an NBA title. From that perspective, the Heat would represent an excellent home for him. Hill, 38, could sign a series of one-year, veteran minimum deals for as long as his body holds up. Hill could do what
Juwan Howard
did last year, except be a lot more productive and helpful.
An interesting twist here? Hill is so likeable he would instantly make the Heat significantly less hateable. It would be significantly easier to swallow
LeBron James
winning his first ring if Grant Hill was there to pour champagne on him.
The Suns would theoretically be highly motivated to keep Hill and there's a decent chance they would be willing to pay more than anyone else to keep him. Here, though, the decision should be more about legacy and less about money.