Posted by Ben Golliver.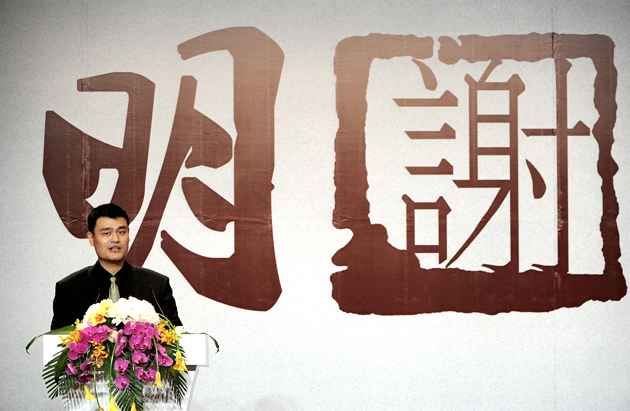 When Houston
Rockets
center Yao Ming
announced his retirement
from the NBA in July at a ceremony in Beijing, the league's commissioner David Stern promised that the league hadn't seen the last of him. Indeed, it now sounds like we'll be seeing more of Yao on a grand stage even sooner than we might have imagined.
ProBasketballTalk.com reported
on Monday that there is a loophole in the Hall of Fame's rules that could see Yao fast-tracked for induction.
According to enshrinement guidelines for the Naismith Memorial Basketball Hall of Fame, "A player must be fully retired for five years before being eligible for Enshrinement. He/she may then be considered for Enshrinement in the sixth year of retirement."

Because the Rockets center appeared in five games this past season, that would have him eligible in 2017.

However, there is no such waiting period when it comes to enshrining a "contributor." And that could create the need for a Beijing-Springfield non-stop as soon as next summer.
Later Monday,
NBA.com reported
that representatives from the Chinese Basketball Association and media will likely proceed with nominating Yao under the "contributor" umbrella for possible enshrinement with the Class of 2012.
While there is no such thing as certainty in a balloting so secretive that even the voters are never revealed, let alone the results, Yao as a contributor removes the debate that might have accompanied his nomination as a player after a career decimated by injury. Plus, after announcing his retirement from the Rockets in July, he would not have been eligible for enshrinement until 2017.

This unique approach would put Yao on the ballot that is submitted in late-2011 and faces two rounds of voting before inductees for the Class of 2012 are announced at the Final Four in New Orleans. The actual enshrinement would be later in the summer, likely August, in Springfield.

Yao has not yet been nominated, but John Doleva, the president and CEO of the Hall, reported he has talked with Chinese basketball officials and media who called to get clarification on the process. They replied, Doleva said, that paperwork would come in time for the 2012 ballot.
When word first broke that Yao was planning to hang it up, the Eye on Basketball staff agreed unanimously that Yao would enter the Hall of Fame for his impact on the globalization of the game even if he wasn't inducted based on the merits of his injury-plagued career. We just had no idea it would happen this quickly.