Posted by Ben Golliver.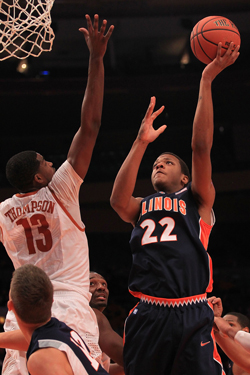 In just a few short months, Jereme Richmond has gone from the brink of the NBA to the clink.
Richmond, a 6-foot-7 and 210 pound forward from the University of Illinois, was a fringe prospect in the 2011 NBA Draft. He had thrown his name into the mix after playing just one season for the Illini and ultimately wasn't selected on draft night.
Just two months later,
DailyHerald.com reports
that Richmond is behind bars after allegedly beating, threatening and spitting on his teenage girlfriend according to Stephen Scheller, the prosecutor in the case.
Richmond, 19, and Matthew Riley, 22, of North Chicago, were arrested Monday afternoon outside the victim's house after police found a loaded .40-caliber semiautomatic pistol in the car the men had driven.


On Sunday, Scheller said, the woman drove to Richmond's residence in the 2000 block of Arthur Drive in Waukegan to retrieve her cellphone. The two began to argue outside Richmond's house, Scheller said, and Richmond shoved the woman back into her car during the ruckus. Monday afternoon, Scheller said, Richmond and Meyer drove to the woman's house and Richmond began to argue with her again as her mother looked on. At one point, Scheller said, Richmond spit on the woman and said he was going to shoot her.
That is just unbelievably sad and horrific.
Richmond averaged 7.6 points and 1.8 assists in 31 games for Illinois.
ESPNChicago.com notes
that Richmond was suspended for the team's tournament games due to "an athletic code violation."
He becomes the latest poster child for what if a player attempts to make the NBA jump too early without sound advice. "I definitely have a long ways to go in my development," Richmond admitted to DraftExpress.com in
a pre-draft interview
. "I'm one of the youngest guys in the draft."
Asked why he declared for the draft after just one season, Richmond replied: "I felt that I was ready. I didn't average what some of the teams would have liked to see me average but I think a trained eye would know that if I got around the setting and was receptive I could flourish."
He's now more likely to languish than flourish. DailyHerald.com reports that Richmond is looking at "up to 14 years in prison" for his actions.