Posted by Royce Young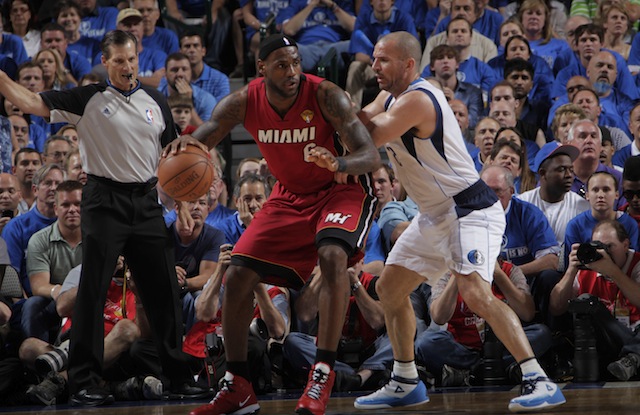 LeBron in the post. That phrase has almost taken on mythical status, as if it's the lost treasure to
LeBron James
' game. It's the MacGuffin for him. Add in a solid post game and you've got a Death Star that's fully operational.
That's the idea. And that's why so many people have be chattering about it.
Sounds like LeBron is finally listening. He's getting serious about improving his post game. So serious, that he's
bringing in the master to help him out -- Hakeem Olajuwon
.
There is a misconception that LeBron has no post game and never has. That's not entirely true, but it's real that he could be better. At 6-8 and 250 pounds with a lightning fast first step, great feet and a strong upper body, there's no reason he shouldn't be dominant there. But for example, against the
Mavericks
in The Finals, he'd isolate in the post and look like he has no real idea what he wanted to accomplish.
Now LeBron's following behind what other greats have done. Michael Jordan established himself as a post master.
Kobe Bryant
did after, you guessed it, working with Olajuwon. (
The
Heat
Index has some pretty interesting numbers on Kobe pre and post-Hakeem. Kobe went from 4.1 posts-ups per game to 8.1 after working with Olajuwon and scored 272 more points out of the post the next season. That's an impact.)
Obviously a couple workouts with Olajuwon isn't going to magically turn LeBron into a post wizard. It's a process to build up and improve in that area. It's not even so much about having the moves down, it's about understanding how to apply them in the right situation. What happens when you're doubled at the elbow? What happens when you've got someone isolated on the dribble backing down on the left baseline? What happens when you have the ball faced up on the right block? Realizing and putting together those sequences is almost as much a part of it as anything else. And that comes with lots and lots of application and practice.
But if anything, it's a message from LeBron that he's serious about improving in the area. LeBron's a hard worker, but not necessarily in the sense of fine tuning his game. He's the league's most talented player and that didn't happen by accident. Problem though, it's easy to just remain there. But the greats move on. They evolve. They progress.
Just think if LeBron had a little reliable post game in The Finals against Dallas. That Game 2 collapse where the Heat couldn't do anything for the last six minutes? The ball could've gone to LeBron on the block. He could've gotten a high percentage look or with his passing ability, dished out of a double team and created for someone else. It's diversity within a player and within an offense. Creating options is always a good thing.
Dwight Howard
worked with Olajuwon last summer and is again this year. It hasn't been a magical quick fix for him, but he's improved. Like I said, for both players, it's going to take more than a handful of hour-long workouts to really get it. Repitition is what gets it done. But LeBron's done the hardest part -- he got started.