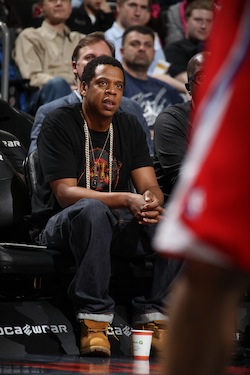 Posted by Royce Young
The
Nets
have always kind of played little brother to the bright and big franchise across the Hudson River. The
Knicks
have had more success, more starpower, the more famous arena and on and on.
But things started to kind of roll toward the Nets when world-famous rapper Jay-Z became a minority owner in the club. Just that name alone connected with the franchise gave it a boost. Then Mikhail Prokhorov purchased the team, the Brooklyn arena project actually got underway, the team traded for
Deron Williams
and things started looking up.
Having Jay-Z as an "owner" -- his stake is something like 1.4 percent, a $4.5 million annual stake -- has been huge in credibility. NBA players are impressionable, whether we think so or not. The thought of getting to be part of Jay-Z's business and be closely connected to him is appealing. The Nets have a certain cache because of him, even though he's a small part of the business.
He's involved a decent amount, at least in the public eye. He went to the groundbreaking of the new Barclays Center in Brooklyn, attends games and had a formal meet and greet with Prokhorov when he bought the team. He cares about the team. I think.
But on his new super album "Watch the Throne," Jay-Z raps on the song "Ni--as in Paris" that he's cool with whatever happens with the Nets. He says, "Ya'll don't know that sh-- don't faze me. The Nets could go 0-for-82 and I look at you like this sh--'s gravy."
Now CLEARLY, this is just a song and it doesn't ACTUALLY mean anything. Jay-Z's just saying he rolls with stuff. That's the point. Still, you're cool with your team going 0-82? Maybe he's just desensitized to the idea of it since it almost happened two years ago when the Nets started 0-18.
I guess he probably doesn't care about the
supposed major financial losses of the team either
. So I guess what I'm saying is, why can't all owners be like Jay-Z right now?
Via Complex