Posted by Ben Golliver.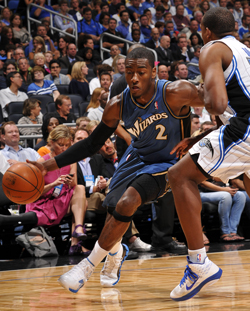 I totally understand booing
John Wall
's
seismographic Reebok sneakers
. But booing the man himself?
That's what happened on Wednesday night when the Washington
Wizards
point guard took the court at North Carolina's esteemed SJG Pro-Am. According to
NewsObserver.com
, Wall led all scorers with 36 points, albeit in a losing effort, but that wasn't enough to silence some critics in the stands.
"Heard a had a lot of boos and haters out there tonight," Wall
wrote on Twitter
. "But thanks, y'all give me more motivation to keep working."
It's unclear why Wall, a native of Raleigh, North Carolina, was booed in his own backyard. By all accounts, Wall is a down-to-earth guy who remains active in mentoring younger players. Aside from one minor scrape with the law in high school, he's got a squeaky-clean image and a game that's built for the highlight reels.In the video posted below, he's shown jawing with his opponents, but that's par for the course during the summer season. Wall did attend the University of Kentucky for his one season of college hoops, but prior to committing he had expressed interest in the University of North Carolina, which apparently wasn't reciprocated.
Wall was surprised by the treatment too.
"It amazes me what I try to do for my hometown and get treated," Wall tweeted. "But that's how it goes in life. Glad I know who my family, brothers and real friends are. Love y'all we on the way to the top."
Other than simple jealousy or rooting against the pro-am game's Goliath, the logic behind booing Wall remains a mystery, especially with the lockout on. You're going to respond negatively to some of the only basketball being played by an NBA star for months? If ever there was a need for a reality check this was it.
Here's video of Wall's game, including the audible booing, via
YouTube user EliteMixtapes
.