Posted by Ben Golliver.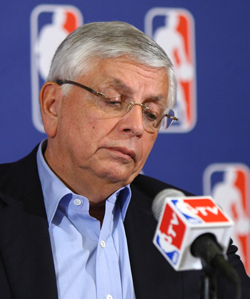 Welcome to a post about the most boring labor negotiation posturing of all time.
Since the NBA lockout went into effect on July 1, the league's owners and the National Basketball Players Association have met exactly once. Nothing was accomplished and the next day the league launched two legal claims against the players.
Amazingly, those now look like the good old days. The two sides are now not only are not meeting with each other, they are pettily pointing the finger across the table and quibbling about scheduling issues.
The Boston Globe reported
on Thursday that NBA commissioner David Stern launched the first missile. "NBA Commissioner David Stern tells the Globe that the NBA Players Association canceled a scheduled meeting today with the league," the site reported.
Just hours later,
Yahoo! Sports quoted
an anonymous source from the players' side firing back with a slightly different story.
Union sources said the players didn't have a meeting scheduled with Stern and his negotiating team.

"The NBA refused to have a staff meeting [Thursday]," a union official said. "Billy Hunter has been with the [National Labor Relations Board] the entire week, including Thursday, and the NBPA was told that Stern would be completely unavailable to meet for the next two weeks."
The NBA continues to make misstep after misstep in the public relations battle.
As noted back in July
, the owners will be blamed for a work stoppage because they have so adamantly refused to moderate their positions on the issues. One great way to diffuse some of that anger would be by making themselves endlessly available for negotiations so as to give the appearance of protecting the fan's interest and expressing a commitment to a resolution.
Here's the advice for owners on this subject that we laid out back in July.
Fans do not want to miss games whatsoever. The players seem committed to doing whatever it takes to not miss games. At least some portion of the owners seem content to miss a whole season. That's a huge public relations black eye.

The best way to fix it? Go way above and beyond to make it clear that you're willing to meet to negotiate at any time and place. No two-to-three week breaks after the lockout is imposed. No waiting until the players start to feel a pinch in the fall. No delay tactics. If you're seriously committed to potentially losing a season, you absolutely have to be able to point to your track record and say, "Look, we did everything in our power to prevent this from happening. We killed ourselves to make a deal." Get up early, stay late, use videoconferencing tools, use subcommittees. Whatever. It. Takes. If you want a new, restructured economic system then you must do everything in your power to prove your commitment to the goal.

Missing a season would be a bitter pill to swallow, but it will be 10 times worse if it happens without continued negotiations and contact between the sides between now and the start of training camp. The general public hates billionaires and millionaires arguing over money. But the general public really hates billionaires and millionaires who can't even be brought to the same table to argue over money.
Stern does a disservice to his league and the game if anything takes precedence over the ongoing labor negotiations. There's no excuse for avoiding continued dialogue, even if the face-to-face meetings continue to be fruitless for the foreseeable future.
If there's one saving grace here, it's that Stern did offer a solid veiled threat
to the Boston Globe
: "I expect that we'll make a deal because the alternative is very destructive," he said. "It's destructive of $2 billion worth of player salaries and it's destructive most important to our fans of the game. And if it spirals badly everyone gets hurt. But in some ways I worry because the players have more to lose, especially those in the later stages of their career. So we're going to do everything we can when the rhetoric slows down to get this thing back on track."
I never thought I would say this, but threats, insults, rhetoric, hyperbole and forced analogies are all vastly preferable to sniping over calendars. Please, gentlemen, let's get back in the conference room so we can ramp up the public putdowns and take a slow step towards saving the game of basketball.