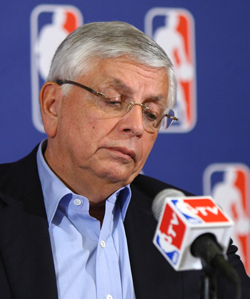 Posted by Royce Young
David Stern reportedly makes something like $23 million a year
. That's a huge number, one that's borderline ridiculous. Only a handful of NBA players make that much money and as
Spencer Hawes
tweeted
, players aren't thrilled with the idea of the commish making that much.
Except the reported number is probably a little high. Other figures came out saying it was more like $16 million. Another saying maybe $13 million.
One figure had it in the $9 million range
, less than the other two major commissioners. So as you can see, the great lockout mystery is how much David Stern makes. That's where we've gotten to in this whole stupid thing.
Friday on the B.S. Report
, Stern addressed the topic saying he probably makes something more like a third of the reported $23 million figure.
"In fact I'm goign to get thrown out of the commissioner's union for being on the low end," Stern said. "But guess what? I've been doing this for so long. I've made a very good living. And in, I guess it was 2008 when we started laying off people because of our business performance, I went to the owners and said I'm going to take a pay cut. I think it's a good idea and I'm going to freeze my salary.
"I did that with the audit and compensation committee which is six people that know exactly what I earn or what we've done. It's not a secret. Every owner can know it if they choose to because we review all salaries with the audit and compensation committee at least twice a year. But you see what's going on out there and it says, 'Nobody knows what Stern makes!' and it's just totally ridiculous."
The NBA did deny the reports claiming Stern made that $23 million number, but this is really the first time Stern himself has addressed it.
The fact it's been such a hot topic is a bit strange. What do people expect, Stern to work for free? He's the top dog for the NBA and has been at it for almost 40 years. I don't think anyone could really claim that Stern doesn't earn his salary. He's widely considered the top commish in sports and it's for a reason. Stern's salary isn't why we're in a lockout. It's a host of other reasons. Maybe finally this will get put to bed.