Posted by Royce Young and Ben Golliver.


Update 2:
Via the AP, a statement from police in Beaumont, Texas, said officers saw a large crowd outside The Ticket night club just after 2 a.m., and received complaints of fights and pepper spray inside. An officer saw about 50 people inside around Perkins, who police said was attempting to fight the club's manager. The statement said the crowd pushed Perkins out the back door of the club, where he continued to yell obscenities and start other fights.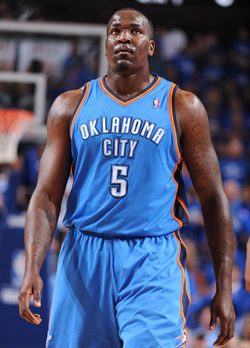 Update
: An earlier version of the KFDM report stated that Milwaukee
Bucks
forward
Stephen Jackson
was also arrested, but that report has been modified to clear Jackson.
A TMZ.com report
also states that only Perkins -- and not Jackson -- was arrested.
Original Post:
According to KFDM in Texas
, Oklahoma City
Thunder
center
Kendrick Perkins
was arrested in his hometown of Beaumont, TX early Saturday morning. He was booked at about 4:00 a.m. on charges of public intoxication and disorderly conduct.
Perkins posted bond of $150 and was shortly released.
So, what happened? At this point, nothing concrete is known.
Some accounts
involve a fight with Perkins, Stephen Jackson and old teammate
Rajon Rondo
. The group, along with
Eric Maynor
and
Kevin Durant
, were all in town for Perkins' basketball camp and celebrity game. However, the celebrity game was cancelled after Perkins reportedly had an incident in Jackson's Port Arthur home late Thursday.
According to reports, a "27-year-old male" was taken from Jackson's home via ambulance to a hospital (Perkins is a 27-year-old male). He was treated for "minor injuries" and released. A spokesman for Perkins said that the Thunder center was suffering from dehydration and was told to rest.
All the details are very sketchy and there's no real known facts at this point, but here's what we know: Perkins was arrested. For what exactly, isn't known. Fighting? Being loud? Who knows. Regardless, for the Thunder, this is the first black eye the squeaky clean franchise has taken. The worst thing before this? Probably either
Nate Robinson
peeing in public or
Nenad Krstic
chucking at chair at someone.
Hey, a first for everything, right OKC?
Obviously there can't be any discipline, at least not right now, because the players are locked out. But once the players return, I'm curious to see whether general manager Sam Presti will take any action on it. Like I said, the Thunder are run as a very clean-cut, no-nonsense type of franchise. The idea is to give a conservative community a high character team to root for. Clearly, this isn't going to be something the Thunder are happy about.
But these type of incidents are prone to happen, especially when players are bored in a lockout. I mean, just look at that related content box. Players are having a hard time staying out of trouble. Perkins' incident -- while in reality, pretty minor -- is just another one on the pile.