Posted by Ben Golliver.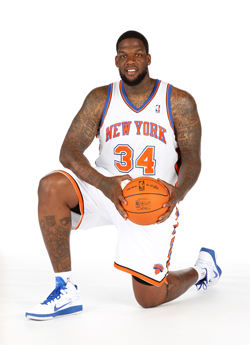 Eddy Curry might not be as famous or beloved as the Queen of daytime television, but we've gotten to the point where we are giving the trials and tribulations of his weight loss battle the Oprah Winfrey treatment. Here we all stand on the sidelines cheering (or jeering) as Curry steps onto the scale, desperate to find fulfillment in the numbers staring back at him.
The Miami Herald reports
that the former Chicago
Bulls
and New York
Knicks
center continues to slim down and, after months of work, is approaching the target zone where the Miami
Heat
, the reigning Eastern Conference champions, might take a look.
Center Eddy Curry is increasing his chances of generating serious interest from the Heat. Respected Chicago-based trainer Tim Grover said last week that since Curry's workout with Miami in late June, he has lost another 28 pounds and is now at 300. Curry weighed 350 when he auditioned for Miami in March. Curry intrigues Pat Riley, who might offer him a minimum deal post-lockout if he loses another 12 pounds or so. His skills "are there, no question," Grover said.
This is roughly the 397th time in the last six months we've heard about Curry's progress. Word first trickled out
back in March
, the signing rumors
picked up in April
, the Heat passed on him and then he
went back for futher workouts
in June and here we are.
Curry spent last season on the Knicks but was dumped on the Minnesota Timberwolves to help facilitate the trade that brought Carmelo Anthony to New York. He was then bought out of the remainder of his contract by the
Timberwolves
. He hasn't appeared in a single game this season and has played just 10 games combined since the beginning of the 2008-2009 season.
As he continues on his Biggest Loser conquest Curry is one of the potential biggest winners of the lockout, considering that any delay in the league's schedule only gives him more time to achieve his target weight prior to the start of training camp.
Miami has
Joel Anthony
,
Zydrunas Ilgauskas
and
Dexter Pittman
on the books for next season and a trio of last year's big men --
Erick Dampier
,
Jamaal Magloire
and
Juwan Howard
-- all saw their contract expire. In other words, there's clearly room for multiple incoming big men, even one with a really troubled past and
especially
one willing to settle for the veteran's minimum.
Curry wouldn't just be settling. At this point he would be ecstatic to get another NBA pay check. Cue the neon sign instructing the audience to chant, "12 more pounds! 12 more pounds!"