Posted by Ben Golliver.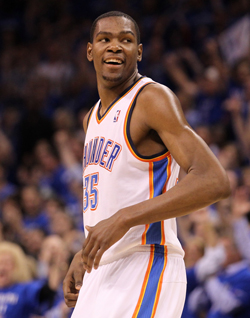 Last week, we noted
that Aaron Goodwin, agent for Oklahoma City
Thunder
forward
Kevin Durant
, confirmed that he was in talks with Turkish club Besiktas about possibly finding the NBA's reigning scoring champ a home if the ongoing NBA lockout leads to a work stoppage.
Because of his long-term guaranteed salary, lack of injury history and obsessive love for the game, we called the Durant-to-Besiktas a rumor worth keeping an eye on.
On Sunday,
the Washington Post reports
that Durant confirms that he is in talks with Besiktas through his agent but states that he is in no hurry to make a decision regarding next season, preferring instead to set a deadline more than six weeks away.
Durant said that after speaking with Stephen Jackson and a few other players last week, he has decided to set a deadline of Oct. 1. "Once we really know the season is not going to start at regular time, that's when you make the decision," he said. "I guess when October hits, it's really going to get real for me. I don't want to do it too early and be locked into something, knowing we're going to play. I'm going to keep my options open."

When asked if Turkey was his first option, Durant said, "My agent is talking with those guys, but I really don't know too much about what's going on. He's going to call the next few days, keep me in [the loop]. Right now, I'm just trying to get better hooping and we'll see what happens."
Given that Besiktas
reportedly opens its season
in the last week of September, the logic behind this wait-and-see approach doesn't quite add up.
To get top dollar overseas, a player must be of full value to his new team, showing up for camp ready to play through the end of the lockout, when FIBA will mandate he must return to his NBA team. Nonchalantly showing up after the regular season has started or dropping in and out on a whim isn't likely to produce a sizeable offer, except perhaps for a player of
Kobe Bryant
's or
LeBron James
' stature.
Push is coming to shove pretty quickly when it comes to the international route for NBA players. Shortly, putting off the decision any further will dramatically decrease the likelihood of finding a home during the lockout.