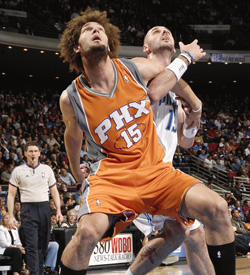 By Matt Moore

Marcin Gotat
made some comments last month
about
Robin Lopez
which gave the distinct impression that he and younger LoBro don't get along. The conflict was over the first Gortat was in Phoenix when Lopez, according to Gortat, didn't give him the right instructions on whether practice was on the court or in the film room. Gortat got yelled at and wasn't too happy about it. In the
Arizona Republic
this week, Gortat wanted to clear the air on the subject.
"There's no argument between me and him," Gortat said, feeling as though there was backlash to his comments. "The stuff that came out with what I said at the camp was just the first contact with Robin. I don't think there was any problem between me and him. Whatever happened didn't have any impact on me or on him.

...

"Robin is a player who's (been) longer with this team right now in Phoenix so he's got his own respect and he's got his own problems also. I'm definitely looking forward to playing with him next year."
via
Catching up with Phoenix
Suns
center
Marcin Gortat
.
Gortat's comments were originally taken from a tour in Poland, so it's entirely problem the issue was just lost in translation, or at least the tone. But this seems more like damage control. Gortat talking about taking Lopez' job, then saying everythin's fine just doesn't seem right. Gortat wasn't too comfortable with a reserve role in Orlando; it's clear he wants to be the guy down low. Lopez and he may not be mortal enemies, but they're far from bosom buddies.
That said, we don't know what Gortat's feelings are, so we should take this at face value. It's enough that Gortat voluntarily borught up the subject in order to clear the air. That's more than most players would do.