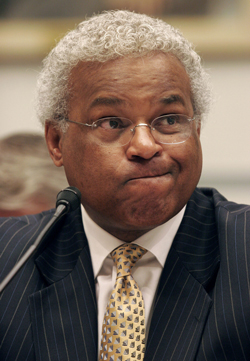 By Matt Moore
Billy Hunter played football. That's not all he did, of course, far from it. He was a United States attorney for several years. He helped Latrell Sprewell defend himself from the league after Spree choked his coach. He's been the head of the NBPA since 1996, a replacement for what the players felt was weak leadership. But, as it is with any significant figure, people are divided on him. Is he too abrasive? Is he too passive? Does he have a plan? Is he too controlling? Does he communicate enough with the players? Too much? The list goes on.
The
Portland Tribune
features a column today quoting a former player discussing Hunter, and the words are not overly kind:
He has his own agenda," one former player tells me. "He's about Billy. He doesn't have the overall well-being of all the players in
via
For NBA players, the clock is ticking
.
Hunter does enjoy the spotlight, that's clear from both taking a position as public as this and his particular brand of firestorming. Still, he has managed to keep the players as one of the strongest unions in professional sports. The players are behind in this particular fight, but the real measure of Hunter's leadership will be measured in what happens in October and November. Until then, Hunter can posture all he wants. It's the fall that brings Hunter's real test of strength, and will reveal whether he's pushing his own image or really looking out for his clients.
In 1998, Hunter warned against the dangers of the lockout thirteen years ago, and implicated that the gap between white fans identifying with black/African-American players could severely damage the game. From a
New York Times
article all those years ago:
We don't want to say it, but we have a game that's predominantly black,'' Hunter said he told Stern. ''I don't know if there is the same kind of fan loyalty and commitment to the game. Just because of perceptions of people.''
via
PRO BASKETBALL; The Street Fighter Who Galls the N.B.A. - New York Times
.
Hunter is not concerned with facing the issues head-on. The only question is whether that approach is born of devotion to his responsibility or a personal drive for acclaim.