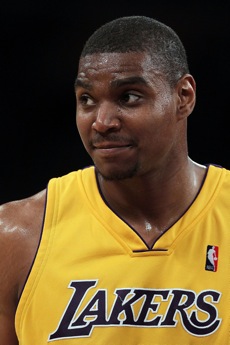 Posted by Royce Young
Andrew Bynum
isn't going overseas for two reasons, he says. 1) Because he thinks there won't be any missed games in the NBA and 2) because he thinks the
Lakers
don't need any distractions.
He's probably right. With the second thing, at least.
That's not at all a dig at
Kobe Bryant
who has reportedly exploring overseas options, but for Bynum, a distraction machine, peering across the pond wouldn't be a good thing for him. He's gets hurt all the time, and well, he gets hurt all the time. Already Bynum walks on thin ice with Laker fans because of some summer decisions last year like postponing knee surgery to go to the World Cup in South Africa which meant he wasn't ready for the start of the season. So a European vacation isn't something that's a great idea for Bynum.
"No, I'll stay here and stay in shape,"
Bynum told the Los Angeles Times
. "[The lockout] seems bad, but I don't think anyone wants to lose games. Player salaries aren't the issue as much as people buying teams and arenas that have been devalued by the things that are part of everyone's life now. We might miss training camp, but I think the season will start on time.
"We got embarrassed and we all need to come back focused, ready to win," he said. "You lose 4-0, there's not much more to be said. I was the first one to admit we didn't work hard enough to win. Let's tell the truth. It was due to a myriad of reasons -- our collective drive and determination. It's about being accountable. Me included. Everyone included."
"Embarrassed" is a pretty good word for it. The Lakers not only got stomped by the
Mavericks
, but in their exit, started trying to behead Dallas players and Bynum committed the most egregious act. So if there's a team itching to get back on the floor this season and start searching for a little redemption, it has to be L.A.
There is some question and speculation as to if Bynum is going to make it through the season with the team though. All the
Dwight Howard
rumors have entangled Bynum as well as a Howard trade to the Lakers would most certainly send him to Orlando. Not something Bynum would be excited about though.
"I like L.A., and don't want to go anywhere else. It'd be good to stay in one place your whole career, and the Lakers are the most storied franchise in the league, everyone knows who the Lakers are, and I appreciate the Lakers' love," he said.
Yeah, and he certainly doesn't want the lasting image of him in the purple and gold to be an aerial clothesline of a player more than a foot shorter than him.