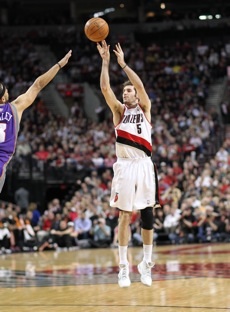 Posted by Royce Young
Rudy Fernandez
's on again, off again relationship with Real Madrid appears to be on again. Very on again.
According to Eurobasket.com
, Fernandez has agreed to a four-year contract with the Spanish professional team. Like a previous report mentioned, Fernandez will return to Dallas after the lockout but then re-return to Spain to play with the club next season and then through 2014-15. If you're wondering, Fernandez's contract with the
Mavericks
-- a rookie deal -- expires after the 2011-12 season.
However, before we finally check Fernandez off the list,
HoopsHype is pumping the brakes
. Citing a source, the deal is "not done yet" and Fernandez hasn't agreed. So we're off again, huh? Good grief.
Then again, HoopsHype said a deal "will likely be announced later this week" meaning that something could be in place and it just needs to be finalized. On again.
This isn't just a lockout contingency plan for Fernandez. He wants to sign with Madrid and make it a long-term deal. Currently Fernandez has one year left on his deal with a qualifying offer available for another.
The original offer he received from Real Madrid was a six-year deal and equated to about $4.4 million per year. So that would be around $26 million over six years, which is a pretty massive offer from a Spanish team. Right now, Fernandez is making about $2 million for this year on his rookie deal with next year's qualifying offer being for $3.2 million.
Fernandez's potential deal would include an NBA opt-out, but that's just to get through his current contract. Which is what he said he wanted to do. After that, all bets are off. So he might play a little in Spain, come back, and then go to Spain again for the long term. You know, on again, off again.