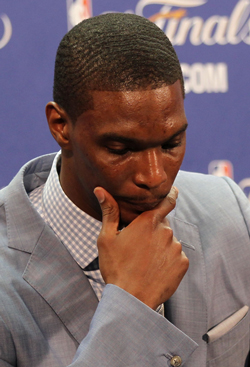 Posted by Royce Young
This time last year, the smoke was finally starting to clear from
LeBron James
' one-hour special announcing his free agency destination. Finally, the dust was settling and we were all continuing with our regularly scheduled programming of being bored (and hot) in August.
There's been a lot of time to reflect on "The Decision" with LeBron even saying things probably could've been handled differently. And while LeBron's taken most of the beating from that night, it really had a large impact on his new team. Immediately, with a strong contribution from the way LeBron announced his intentions, the
Heat
were America's most hated team. Not just LeBron. But joining him was
Dwyane Wade
and
Chris Bosh
at the front of the table.
Bosh joined ESPN Radio
to talk about the usual list of stuff you talk about while the NBA's locked out in August -- playing overseas, last season, next season, etc -- but he was also asked about "The Decision." Specifically, do you think it should've been handled differently or should everyone just own up to it?
"I say you own up to it. We all make mistakes. I think anybody would be kidding themselves if they thought they were perfect at anything. I mean why change it? We've already went through with everything. Whether good or bad, whether it was a good decision or bad decision, or we should have done this, could of done that, if we would of done this. We are here now. Everything has happened, so let's just own up to it. Yeah we did it. Yes. If it was a mistake? If I see it as a mistake and here's the reasons why, but here's the reasons why it is going to help us in the long run."
I think there's a bit of confusion here as to if we're talking about just the one-hour program, or the whole process of it, which would include the crazy South Beach celebration party before the team even practiced. (I think that's what Bosh means here, along with the three players coming together.)
But he's certainly keen on taking responsibilty for whatever he feels like taking responsibility for. He's right: You can't wish you would've signed with the
Mavericks
or
Bulls
now. You're with the Heat. Unless they decide to trade you, you're there and it's your job to figure out how to win. That was the commitment those guys made when they put their names on the paper with Pat Riley and they're going to try and follow through.
"The Decision" was a huge mistake. The events that took place immediately after were too. You can't change it now, you can just move forward. And the best way to make everyone forget, or at least maybe forgive, is to win. That's how it works.