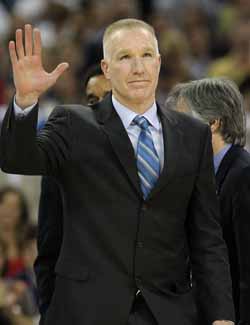 By Matt Moore


Update (3:02 p.m.):
A representative for the NBA notified CBSSports.com today that the NBA will "not lose money on this." The rep further clarififed that the event is sponsored by various entities including Singha Drinking Water, so apparently everything's paid for. Good work if you can get it. The league isn't spending anything extra on the event, it's just a "grassroots" event, according to the NBA.
Original report:
The NBA has let go of 114 employees in the past month. Teams are hemmoraghing employees. There's a lockout in place to try and choke the will out of the players to force them to agree to roll back salaries. All of this because the NBA insists its costs are too high, that its teams are losing money and the league itself needed to trim the fat.
But that's not stopping it from teaming with other companies to promote itself overseas. From the Bangkok Post:
The National Basketball Association will host its first-ever event in Thailand with the NBA 3-on-3 Thailand 2011 presented by Singha Drinking Water, the league announced yesterday.

Featuring Hall of Famer Chris Mullin, the NBA 3-on-3 Thailand 2011 will take place in Bangkok at CentralWorld on Sept 10 and 11.

The competition, which will provide youth with an opportunity to hone their basketball skills and compete amongst their peers, is open to 11-19-year-old boys and girls and also features a division for adult men.
via
Bangkok Post : NBA to host first event in Thailand
.
It's kind of weird that the NBA is hosting this event in a lockout. One would think that all the resources in the league are focused on resolving the conflict, or at least putting all events like this on hold.
But hey, it's great for the kids in Bangkok. It'll bring a special moment for kids that don't often get to see people like Mullins or... the
Grizzlies
mascot. It's a feel-good project. The timing just seems a bit odd, what with the basketball league promoting a basketball event without its basketball players because it doesn't have a basketball league at the moment.