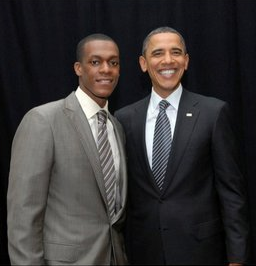 Posted by Royce Young
The widely accepted reason for the
Celtics
funk late last season, specifically the one
Rajon Rondo
was suffering through, was because the team traded fellow ubuntu-er
Kendrick Perkins
to Oklahoma City and messed up all the chemisty. Perkins, being Rondo's best friend on the team, sent the point guard into a lull that had him moping around like he lost his dog or something.
But maybe there was a different reason for it. A government conspiracy. Well, not exactly. But keep in mind, President Obama
is
a
Bulls
fan.
Via Shaq's new book Shaq Uncut
, written along with Hall of Famer Jackie MacMullan, he explains what he thought was the real reason for Rondo's slump.
In early March some of the guys went to the museum of Fine Arts for a fund-raiser and got to hang with President Barack Obama. Everyone was a little bit in awe. The President turns to Ray, points at Rondo, and says, "Hey, Ray, why don't you teach this kid how to shoot?" Everyone starts laughing.

…

KG told me he saw the look on Rondo's face and the kid was devastated, embarrassed. Dissed by the President, even though I'm sure Obama didn't mean any harm. Rondo smiled and went along with all of it, but KG told me he could see it in his eyes. It bothered Rondo. It killed him.

The next day Rondo shot the ball horribly. He stopped taking shots after that. He's so sensitive. I think it was a real jolt to hear the outside perception of a basketball fan who happens to be the President of the United States. It messed with his mind. I'm sure of it.
Now keep in mind, Perkins, along with
Nate Robinson
, was traded to the
Thunder
for
Jeff Green
and
Nenad Krstic
in February 24th at the deadline. So everything certainly lines up. No doubt that the team -- Rondo specifically -- was likely hurt by the trade since one of their key players and close friends was going somewhere else. But maybe there's something to a presidential hex put on by Obama.
At the same time, it's well known that Rondo's psyche is a bit fragile, but geez man. Just because Obama zinged you doesn't mean you should lose it. You're one of the best point guards in the league! You won a title for crying out loud! Where's the mental toughness? We're all sensitive. Nobody likes to be told they suck at something (except Gregg Doyel -- he even publishes it when you do!), especially by the freaking President of the United States.
But it's an interesting twist to last season. Inadvertently, or maybe very advertently, President Obama shifted the Eastern Conference playoff race. In favor of the Bulls, mind you. You're welcome for the next movie Oliver Stone.
Via SLAM