Posted by Ben Golliver.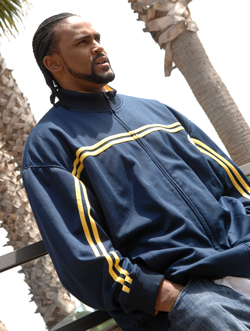 After all the hand-wringing over NBA players getting injured while playing elsewhere during the ongoing lockout, it's only appropriate that a broken hand would be the first relatively high-profile injury of the summer.
FIBA.com reports
that New York
Knicks
center
Ronny Turiaf
reportedly broke a bone on his left hand while representing France against Great Britain in a Tuesday exhibition match in London in preparation for the upcoming EuroBasket tournament.
Turiaf got tangled up in a battle for a rebound and, after x-rays were taken at a London hospital, France's medical staff confirmed the player had sustained a fracture in the fourth metacarpal of his left hand.

The 28-year-old will see a specialist in Paris on Thursday to determine how long the injury will keep him on the sidelines. Turiaf could be forced to sit out EuroBasket in Lithuania where France will look to qualify for next year's Olympic Games.
Given that the injury occured in an organized setting and for a national team rather than a professional team, in a pro-am game or other exhibition, Turiaf should be free and clear of any possible sanction.
The bigger concern, of course, is whether Turiaf will be ready to go when Knicks camp opens at some unknown date in the future. And considering the lack of progress in the ongoing Collective Bargaining Agreement negotiations, it's unlikely that the injury will compromise his availability.
That's good, because the Knicks frontline is notoriously thin, even with Turiaf healthy. Of the 10 Knicks players currently under contract for next season, Turiaf is the only player 6-foot-10 or taller other than franchise power forward
Amar'e Stoudemire
. Knicks 2011 seocnd round draft pick
Josh Harrellson
, who has not yet been signed, is also 6-foot-10.
Jared Jeffries
, who is set to become a free agent, is 6-foot-11.
Turiaf averaged 4.2 points and 3.2 rebounds in 17.8 minutes for the Knicks last season, and was an occasional starter. He's set to enter the final year of his contract in 2011-2012, which will pay him $4.36 million.