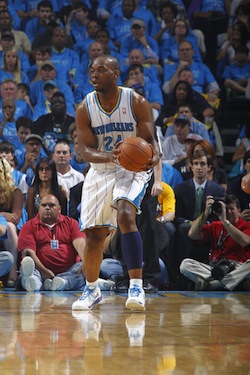 Posted by Royce Young
In an interview with SLAM
, power forward
Carl Landry
, most recently with the
Hornets
, said he saw himself as a good fit with the
Trail Blazers
. His reasoning? They need his size.
"I think I can fit in with Portland," he said. "They're in need of a big post presence down low. I'm not taking anything away from (Greg) Oden and (Marcus) Camby. I just know what I can provide. The Blazers are a good team and I know I can help.
"I really like Portland," said Landry." I'm good friends with Greg Oden, and Wes Matthews is from Wisconsin like me. There are a lot of ties there and I have no doubt that I would blend in fine."
A quick note to Carl Landry: LaMarcus Aldridge plays for the Blazers too. In fact, he's their best player. In fact, he's one of the league's best players. I'm sure it was an oversight but when you say the Blazers need size because all they have is Oden and Camby, you might not want to leave out that 6-11 power forward that probably should've been on the All-Star team. Just a heads up.
But the point I think Landry is trying to make is that the team needs frontcourt depth. Landry's a bruiser. He's a guy that plays physical post defense, rebounds and scores a lot cleaning up inside. He's not going to be a starter, but in terms of having him to foul players like Dirk Nowitzki and Pau Gasol hard, he's your guy.
And do I really have to point out that the Blazers need every body they can get? Oden's not a guarantee to be back with the team anyway, but health seems to always be an issue with the Blazers. Camby's like 56 years old to start with, so having a quality post player like Landry certainly would help. Even though his reasoning might not be correct since he forgot Aldridge, I think I have to agree with Landry. He'd be a fit with the Blazers.
Because here's what Landry says he brings: "I have an engine that doesn't come in every car. Its' a special engine like turbo and that's something a coach can't teach."
You hear that Unknown Blazers General Manager? Sign this guy up!