Posted by Ben Golliver.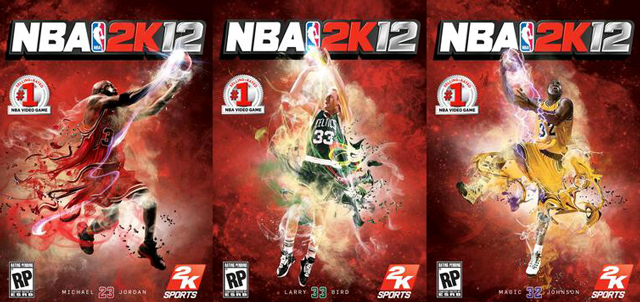 NBA 2K12
has finally revealed
its full list of the 15 basketball legends that will be included in this year's game. The group is led by the game's
three cover boys
-- Michael Jordan, Larry Bird and
Magic
Johnson -- and also includes Kareem Abdul-Jabbar and Julius Erving, who were
revealed in early August
.
The final ten names, in alphabetical order: Wilt Chamberlain, Patrick Ewing, Karl Malone, Hakeem Olajuwon, Scottie Pippen, Oscar Robertson, Bill Russell, John Stockton, Isiah Thomas, Jerry West.
The final list aligns fairly well with the suggestions we made a few weeks back. Chamberlain, Olajuwon, Robertson, Russell, Thomas and West were all included on our list of preferred candidates. Of course, that means there are some of bones to pick with the remaining four names: Ewing, Pippen, Stockton, Malone.
For starters, that group makes the overall list really heavy on the 1990s, a time when Jordan was king. That makes sense from a marketing and business standpoint, as those are often seen as the golden years of the NBA for men aged 25-40, presumably a major demographic who will be purchasing this game. But if you're going to go all 1990s, leaving Charles Barkley and the insanely fun early-1990s Phoenix
Suns
off the list is inexcusable. Barkley over Ewing or one of the
Jazz
pair is a no-brainer.
NBA 2K12 smartly mitigated against widespread snubbing, though, by including a whole host of other legends in a roundabout way. How?
As Kotaku.com notes
, Barkley and other top-50 players like Elgin Baylor, Shaquille O'Neal, Pete Maravich, Clyde Drexler, David Robinson, Earl Monroe and Walt Frazier will be available as players on the opposing teams facing off against the legends in a series of "NBA's Greatest" rivalry games. Barkley will appear as a member of Dr. J's
76ers
and a young O'Neal will be on the 1994-1995 Orlando Magic. Here's the full list of match-ups.
1970-71 Milwaukee Bucks (Oscar Robertson) vs. Lakers
1970-71 Lakers (Jerry West) vs. Atlanta Hawks
1971-72 Lakers (Wilt Chamberlain) vs. Knicks
1984-1985 Philadelphia 76ers (Julius Erving) vs. Bucks
1985-86 Celtics (Larry Bird) vs. Hawks
1986-87 Lakers (Kareem Abdul-Jabbar) vs. Celtics
1990-91 Lakers (Magic Johnson) vs. Portland Trail Blazers
1992-1993 Bulls (Michael Jordan) vs. Charlotte Hornets
1994-1995 Knicks (Patrick Ewing) vs. Orlando Magic
1995-1996 Bulls (Scottie Pippen) vs. Seattle Supersonics
1997-1998 Utah Jazz (John Stockton) vs. Lakers
1997-1998 Jazz (Karl Malone) vs. San Antonio Spurs
It's good to know the game was able to squeeze in just about everyone, even if deserving guys like Maravich, Baylor and O'Neal were left off the "15 legends" list. With the match-up mode expanding the starpower, this game is shaping up to be incredibly sick.