Posted by Ben Golliver.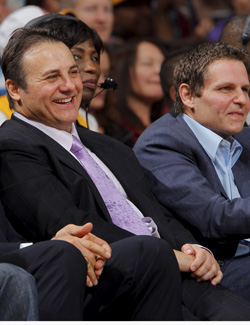 Who foots the bill for a new stadium when a team's owners are too poor or unwilling to pay and the city government lacks big amounts of available funds or the mandate to level heavy taxes? Well, either the taxpayers or a different city with greener pastures.
In Sacramento, Mayor Kevin Johnson and the
Kings
organization are trying to finance a new arena that will keep the team in Northern California. In order to prevent another relocation bid, Johnson and company have pulled out all the stops to find enough coins in their couch to keep the Maloof Family in town.
Their current solution?
The Sacramento Bee reports
the plan is to levy a series of surcharges on various activities related to the arena that will accumulate
Surcharges on everything from tickets to hot dogs could raise as much as $20 million a year toward construction of a new downtown Sacramento sports arena, Mayor Kevin Johnson's task force said today.

The report, labeled "highly preliminary," outlines a broad range of fees that could be tacked on arena users. An "illustrative case study" shows that ticketbuyers could pay surcharges ranging from $1 to $3 apiece, for example.

The task force is trying to patch together a series of funding sources with the understanding that taxpayers would never agree to a general tax increase to fund the railyard arena.

"The burden will be spread...far and wide," said the task force's director, political strategist Chris Lehane.
Setting up a business district near the stadium and taking lease payments from the Kings would combine with the surcharges to complete the financial picture of the stadium. Give the task force credit for its effort: a piecemeal approach is the only real solution absent big money, and putting those pieces together is no easy task.
One obvious hurdle in this plan is that it requires people -- a lot of people -- to show up to the arena. A low-dollar surcharge isn't likely to keep people from attending games by itself, but the Kings were second-to-last in home attendance last season, at
under 14,000 people per game
. A new arena can spark interest in a bad team, for sure, but only sustained success will keep fans coming in a smaller market.
Expecting to gross $20 million in arena-related surcharges 14,000 people at a time sounds like a stretch. If we're only talking about 41 home games (and not concerts or other events), $20,000,000 total in surcharges would require each fan that attended each game to pay nearly $35 dollars in surcharges alone, a preposterous sum. If, instead, we say that a new arena could draw 20,000 fans and host 100 nights of entertainment a year, we're still talking about $10 per fan per event in surcharges to reach the goal.
That's a very, very difficult target to reach given that a night at an NBA game -- tickets, parking, concessions, memorabilia-- is already pretty pricey. And it would theoretically need to happen year after year after year until the stadium was paid off. Getting dinged like that would get real old, real quick.
That sounds a lot more like a fan tax than a surcharge. Certainly there are a few thousand die-hard season ticketholders who wouldn't blink at paying an extra $400+ per season to ensure the team gets a new arena and stays in town. But what about everyone else? This is a casual fan's league and we're not talking about casual sums of money.