Posted by Royce Young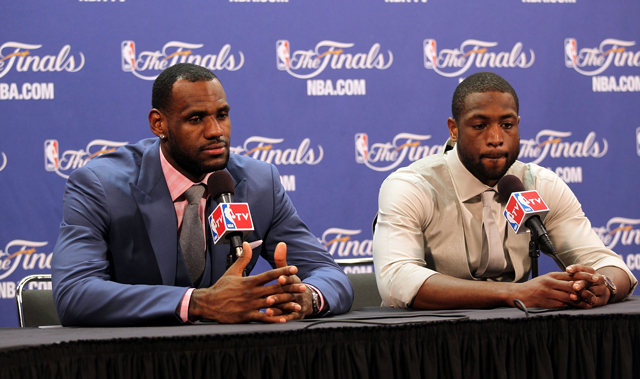 Dwyane Wade
loved playing up the "us against the world" idea last season. He'd makes jokes like, "Oh, a bunch of reporters here today so I guess the
Heat
lost last night." He said that everyone got what they wanted with Miami falling in The Finals.
He was mostly right, but the "woe is us" theme was kind of annoying. Actually check that.
Really
annoying. Especially when it was pretty much entirely brought on by themselves with "The Decision" and then the celebration party before they'd even practiced.
In an interview with ESPN Radio in Milwaukee
, Wade was asked about his comments after Game 6 how he said everyone was happy the Heat lost. His response:
"At that point it was me. Obviously we went through a lot last year. It was unfair some of the stuff that we had to endure but we grew from it. That's over with. We move on to whenever we play basketball again and we will be a different team."
Was it unfair? Yeah, probably so. The Heat were under an incredible microscope all season long with every loss, every bad possession, every accidental bump, every locker room cry being broken down and analyzed every which way. But like I said, they knew this way coming because they kind of asked for it. Going out and proclaiming multiple titles are coming their way and basically acting like everything would be cake is what raised everyone's ire.
Were people happy the Heat lost? Absolutely. Was the coverage and treatment of them probably unfair? Yeah, most likely. But is that any kind of excuse? No way. You've got to play with distractions whatever they may be. Just because the Heat column ratio between wins and losses was something like one to 100 doesn't mean it's an excuse. Like Wade said, you've got to endure.
Problem was, they didn't ever even learn. Remember when they intentionally made fun of Dirk's sickness during The Finals? At least that's what Wade said they were doing. They were just "testing" the media. I guess they got us good because everyone made a big stink. But that lack of awareness is ultimately one of the reasons the Heat didn't work this first season. Wade can say it was unfair all he wants, but if that's the case, don't ask for more of it. Handle your business, play ball and shut up. And eventually, everyone else will too.