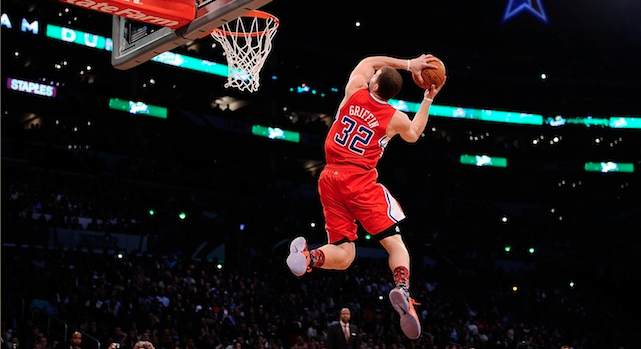 By Matt Moore
This is the tenth segment of the CBSSports.com Eye on Basketball Elite 100, counting down the top-100 players in the NBA.
Check out the earlier installments: 100-91 | 90-81 | 80-71 | 70-61 | 60-51 | 50-41 | 40-31 | 30-21 | 20-11

We've hit the top ten.

Here we find the ten best players of the NBA. We'll unleash our top five (who you can already figure out) tomorrow, but these players all could reasonably fit in that top five category. The most explosive player in the league is entering only his second year of play. The league's best scorer is criminally underrated still as we wait for him to hit the zenith of his abilities. The five-time champion sits at the bottom, fueled with bitterness and rage at what age and a shocking dismissal in the playoffs has left him. The league's best true point guard has reclaimed his crown.

This is the sixth through tenth best players in the National Basketball Association and where they dribble, Thunder follows. Metaphorical thunder. Not the actual Thunder. Except for one of them. He's on the Thunder. This is confusing. Anyway, 10-6!
10. Blake Griffin, PF, age 22, Los Angeles Clippers2011 stats: 22.5 ppg, 12.1 rpg, 3.8 apg, 50.6 FG%, 21.93 PERComposite rankings (random order): 10, 10, 15
It's not all about the dunks. You just have to tell yourself that. It is not, all about the dunks. Yeah, I realize Blake Griffin's rookie season will be most remembered more for his instant YouTube classics than for a pretty drop-step layup, but that's really what it was about. Blake Griffin is an excellent dunker, yes. But he's a better basketball player.
His numbers were terrific and not just for a rookie. For anybody. He went for 22.5 points and 12.1 rebounds per game. That's not just in the category of "Wow, nice rookie year, now let's see what he does next." That's in the "Wow, how can he do much better than that?"
Griffin is extremely skilled but what makes him so special is that he's willing to outwork everyone on the floor. He plays harder than everybody while possessing otherworldly ability for a man 6-10. Every time he skies recklessly for a rebound or dives wildly on the floor you fear the worst, but that's what makes Blake Griffin the player he is. He plays the game in a violent, relentless manner. And on top of it, he adds top tier skill and talent with it.
He has some room to grow of course. He needs to refine his jumpshot where he's effective in the pick-and-pop game. He needs to shoot better from the free throw line. He needs to be a bit better in help defense. He should impact games on both ends. But naturally he should improve. He's just 22 and just finished his rookie year.
I love to point to his best game of the season, his 47-point effort against the
Pacers
. He didn't dunk the ball once in that game. Instead it was an array of spins, jumpers, hooks and deft layups that took him to his career-high. His full-court oops and massive posters bring in the oohs and ahhs, but games like he had against the Pacers is what shows you that he's going to be one of the league best players over the next 10 years.
-- RY

9. Pau Gasol, PF, age 31, Los Angeles Lakers2011 stats: 18.8 ppg, 10.2 rpg, 3.3 apg, 52.9 FG%, 23.3 PERComposite rankings (random order): 12, 9, 9
Pau Gasol started off great. In the month of November, he averaged 20 points, 12 rebounds, and 4 assists on 54 percent shooting. He as an MVP candidate, arguably the best player on the Lakers. He was dominant, and holding the title of "best big man in the NBA" he'd earned in 2009-2010.
It was pretty much all downhill from there.
Gasol's points and rebounds dropped, then recovered in February, then tailed off. That wasn't the big problem, though. The problem was the return of something he thought he'd quashed, the perception that he's soft. The Lakers' swept exit from the playoffs reinforced this ten-fold especially with the rumors of personal problems dogging him.
All the while, Gasol is still the best true big in the game, given that
Dirk Nowitzki
operates so much at the elbow. But whereas once it was thought Gasol was ahead of Nowitzki, last season flipped that script completely, and it wasn't just about the Mavs' Finals run. With Gasol getting older, it'll be key to see how he responds to the criticism and whether he comes back fiercer than ever or settles into a role.
-- MM
8. Chris Paul, PG, age 26, New Orleans Hornets
2011 stats: 15.9 ppg, 9.8 apg, 4.1 rpg, 2.3 spg, 46.3 FG%, 23.7 PERComposite rankings (random order): 8, 7, 8
Chris Paul ended any conversation that may have been had during his injury-plagued 2009-2010 season about who is the best pure point guard in the NBA in 2010-2011. He returned to form, snapping back from injury and boosting the Hornets to one of the best starts in the league before putting on the burners and coasting into a seven spot. It wasn't the best season for the Hornets, nor the best season for Paul individually, but it did reassert that Paul is the best pure point guard in this league. In reality, he's the best point guard in this league, period, but trying to explain to the average fan (or
Bulls
fan) that what
Derrick Rose
does can hardly be described as point guard play and is instead his own rebranding of the concept of guard play gets tricky. And so we stick Paul with the "best pure" title with a wink and a nod and a pat on the head for everyone else screaming "DROZE!" (who you will find higher on this list for a reason, I might add).
Paul wasn't nearly the best he's been, nor anywhere close to that 2007-2008 season where he was a legitimate MVP candidate (for all the talk about the MVP's stolen from
Kobe Bryant
, that season stands as one that Bryant may have stolen as reparation for those earlier years). He posted a career low in points per game and his lowest assist average in four seasons. Most of this was due to a mid-season swoon that saw his numbers dip. He alluded to it, carefully, in an interview with Ken Berger about keeping himself healthy for the postseason. And in the postseason, Paul showed how dangerous he can be.
The Hornets even putting up a fight against L.A. was unexpected, much less the onslaught that Chris Paul wrought upon the Lakers. It was a clinic in how to run point guard and he sliced and diced them in every way. He ran out of steam but the point was made.
Paul enters 2011-2012 (prospective) season as potentially his last in New Orleans. He will be trying to find a way most likely without
David West
, and looking towards the future. Paul just turned 26 in May. The scariest part of all of this is that he's just now entering his prime. The only real concern is if he can stay healthy enough to capitalize on it.
-- MM
7. Kevin Durant, SF, age 22, Oklahoma City Thunder
2011 stats: 27.7 ppg, 6.8 rpg, 2.7 apg, 46.2 FG%, 35.0 3P%, 23.70 PERComposite rankings (random order): 7, 8, 3
Initial thought of seeing Durant at No. 7 is that he's too low. How can the league two-time defending scoring champ not be in the top five? How can maybe the most gifted scorer, maybe the most unguardable player in the league, be in the bottom half of the top 10?
It's simple: The six players ahead of him are really, really good. That's not to take anything from Durant. Because no one would say he's not one of the most talented players in the league. Really, if you just stop yourself and remember that he hasn't even turned 23 yet then seventh starts sounding pretty darn impressive. With as much talent as there is in the NBA right now, being ranked seventh of all players at just the age of 22 is kind of an honor.
I don't feel like I need to really run down Durant's credentials here. He's a legitimate threat to have multiple seasons of 50-40-90 percentages. He absolutely could average 35 points a game. He could average a double-double with more than 30 points a game. He could do a lot of stuff. That's the point.
But he's a committed team player that doesn't necessarily care about the above except for the fact that playing well helps his team win. As the leader of the youngest team in the postseason last year, Durant took his team to the brink of the NBA Finals. And he added some pantheon playoff moments to go with it. Remember that Game 5 against the
Nuggets
where Durant completely took over in the final three minutes? Darn near legendary. And that's the future with Durant. We could be settling in for a whole lot more of that. If that's the case, it's not going to matter how good the six players in front of him are. He'll be right on top
. -- RY
6. Kobe Bryant, G, age 32, Los Angeles Lakers
2011 Stats: 25.3 points, 5.1 rebounds, 4.7 assists, 1.2 steals, 45.1 FG%, 23.94 PER
Composite rankings (random order): 6, 5, 7
Kobe Bryant's days of being the NBA's best active player are behind him. He still holds the title of "fiercest competitor" and "most confident in the clutch," but his body and age have started to betray him ever so slightly and a much lighter minutes load (he played just 33.9 minutes per game, his fewest since he was a teenager) brought down his scoring average, shooting numbers and most of his other statistical contributions in 2010-2011. The drops were all marginal, though, suggesting that Bryant didn't fall very far down the pecking order and indicating that he should remain a productive player for years to come. His diverse offensive game, elite shot-creating and shot-making abilities, and well-honed veteran craftiness will all help extend his career, too.
One thing that didn't change last season was Bryant's perception of his own abilities. Bryant actually led the league in usage, meaning that he finished more plays than everyone else, including ball-dominating lead guards like Derrick Rose and Russell Westbrook. His 21.2 shots per 36 minutes were also near a career high water mark, eclipsed only by his 2005-2006 gunning campaign which resulted in his career-best scoring average of 35.4 per game. If Bryant plans to add to his five rings, his field goal attempts and usage rate will have to come down to make room for the rise of Andrew Bynum.
With any luck, this summer's treatment on his knee should allow Bryant to keep on trucking towards Michael Jordan's all-time point scoring total, a chase that will captivate the NBA's media as he gets closer and closer. At this stage of his career, it's less important where Bryant falls in the top-100 and more important where he winds up in the Greatest Of All Time discussion. While he will almost certainly continue to fall on the former, he should only keep rising on the latter. -- BG