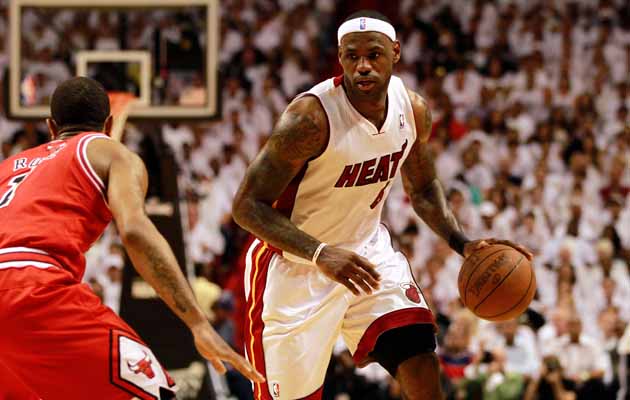 By Matt Moore
This is the final segment of the CBSSports.com Eye on Basketball Elite 100, counting down the top-100 players in the NBA. The goal was to create the best ranking of players based on total value, which comprises everything from respect and status to upside to statistical production and intangibles. All three of our NBA bloggers ranked every player, then we took the average to determine our ranking.
Check out the earlier installments: 100-91 | 90-81 | 80-71 | 70-61 | 60-51 | 50-41 | 40-31 | 30-21 | 20-11 | 10-6

We've come to the end, my friends.

What we discovered while making this list is that the NBA has such remarkable athletes, that the gap between one to the next is quite small. There are no clear dividing lines. You make the best estimation off of overall value, take the aggregate, and may the basketball gods have mercy on your soul. You look at every player near the top and say, "that's got to be too low," until you look at the players above him. Then you begrudgingly move on to those players who you feel much the same about. We're blessed with incredible players in this league, versatile and extremely talented. Our attempt in ranking them wasn't perfect, and the best aspect is finding out your thoughts.

No one's going to agree on these lists completely. For every item you find accurate, there will be 10 you disagree with. And we're betting our top spot will neither surprise you nor please you. But, after watching these players night in and night out, this is the top of the chart in comparison to all others. It's been fun figuring out who goes where, even if it kept us up nights. And we promise we'll keep watching and working to figure it out every night to come.

You know, once we have a season again.

Here now are the top five players in the NBA in overall value according to the EOB Elite 100.

5. Derrick Rose, PG, age 22, Chicago Bulls
2011 stats: 25.0 ppg, 4.1 rpg, 7.7 apg, 1.0 spg, .6 bpg, 44.5 FG percentage, 23.5 PER
Composite rankings (random order): 5, 5, 4

What I love about Rose ending up here is that he's simultaneously too low and too high and both arguments are valid. He's the reigning MVP. His team secured the top spot in the playoffs overall and won the most regular-season games. He led the Bulls to the Eastern Conference Finals. Rose is young, brilliant, explosive, and seems to improve with every game. He's also inefficient at times, both in shooting percentage and turnovers. He's got great assist numbers and yet never blows you away with his passing game. He has elite speed and tremendous finishing ability, but his mid-range jumper is a work in progress and his 3-point shot, which improved considerably in 2010-11, is wildly inconsistent. He'll shoot 70 percent from the arc one game and go 1 of 5 the next. The end result is a career-best percentage that could go way up if he manages to stabilize it.

Rose is an elite player in this league, but ... 1: We haven't seen MVP-level play from him beyond this season, and those above him have been at it for years; 2: His postseason struggles, particularly against the Heat stick with us. The problems did go beyond the Heat series, however. Rose had a 35.2 usage rate in the playoffs, which is astronomical (and he had to; have you seen Carlos Boozer?) yet only had a 43 effective field goal percentage. The way the Heat were able to adjust to solve him lingers, despite a stellar 2011 campaign.

What Rose did stands out. I described Chris Paul as the best pure point guard in the league earlier, and I still believe him to be the best point guard. But that's because Rose isn't a point guard by any traditional sense. He's not even really a point guard by any advanced metric. This isn't to say he can't do what point guards do. He does, and quite well. It's that Rose is so prolific in his game, that he extends beyond the traditional position evaluations. I'm fond of saying, "Rose isn't a point guard, he's not a shooting guard, he's not even really a guard. He's Derrick Rose." His versatility and explosiveness are so unmatched, his specific style and approach so unique, he extends beyond the traditional models and establishes himself as his own entity. Even if that entity sometimes shows hiccups we saw in the ECF.

Don't get too upset, Bulls fans. This ranking definitely hides the fact that our committee definitely believes that this will be the last time Rose is this low, and that his shot at the top spot next year is as strong as anyone's. And yet any drop-off from his tremendous season would be a huge letdown. This is the top of the NBA, where Rose belongs, and all of these factors make up the reasons why at No. 5. He's at once too low and too high for anyone and everyone. Say hello to Derrick Rose, the NBA's newest most-polarizing player. -- MM

4. Dwyane Wade, SG, 29, Miami Heat
2011 stats: 25.4 ppg, 6.4 rpg, 4.6 apg, 50 FG percentage, 30.6 3-point percentage, 25.65 PER
Composite rankings (random order): 4, 5, 4
Most of the talk about the Miami Heat has centered around
LeBron James
. He's the lightning rod, the controversial figure, the talking point. But here's what should tell you that Dwyane Wade still is entirely legit: The Heat are still his team. LeBron may generate most of the chatter, but the Heat just feel like Wade's team.
Wade sometimes is forgotten as a superstar for reasons I don't exactly know, but he's a champion, a Finals MVP, an elite defender and a top-tier scorer. His production may have dipped a bit because he's sharing duties with LeBron and
Chris Bosh
, but don't forget he averaged 30.2 points a game on nearly 50 percent shooting in 2008-09. Don't forget that he's averaging 6.3 assists a game for his career with two seasons of 7.5 a game. In fact, don't forget that for his career, he goes 25-6-5.
Wade is 29 though, and he's had a few major injuries and surgeries so he might start trending down in the next few seasons. He's the type of player that plays so hard he's borderline reckless. Eventually the wear and tear is going to slow him down. But he's still elite because he's a complete player. You may think of LeBron first when someone brings up the Heat but it's Wade's team and that's not changing.
-- RY
3. Dirk Nowitzki, F, 33, Dallas Mavericks
2011 Stats: 23.0 points, 7.0 rebounds, 2.6 assists, 51.7 FG percentage 23.52 PER
Composite rankings (random order): 5, 2, 3
We've arrived at the pinnacle of Nowitzki's NBA career, a summit from which the German forward triumphantly holds up the Larry O'Brien and his NBA Finals MVP trophies and looks down upon all the critics who said he was too "soft" and not wired to be a No. 1 option on a title-winning team. The Mavericks were somewhat improbable champions and nobody benefited from their victory more -- at least from a perception standpoint -- than Nowitzki, whose unbelievable scoring efficiency and unmatched ability to hit off-balance shots stole the show during the 2011 playoffs.
Bracketed by Shawn Marion and Tyson Chandler, it didn't much matter that Nowitzki still isn't an All-NBA defender and never will be. He performed capably in man-to-man or zone looks, but his overall offensive game was his ace in the hole; nobody could stop him when he needed to get a bucket in the postseason. Nowitzki wasn't only a weapon when he's leaning back and falling away, uncorking a jumper at an impossible angle. He's agile enough, even at his size, to take most NBA bigs off the dribble and he can finish around the rim in a variety of creative ways, usually more smooth rather than emphatic. He commands constant attention and is a surgeon when it comes to picking apart weak, early or late help defense, equally adept at threading the needle to cutters or throwing on-the-money skip passes. He can shoot with range, from a stop or on the move; he can set picks and find his spots. Despite the spotlight, he's still an underrated rebounder. And, please, don't leave out his ability to pump fake to draw fouls and to convert his free throws at a ridiculous 89.2 percent.
Put simply, Nowitzki is so good on offense that he we've ranked him ahead of all but the very best two-way players in the league. Not too shabby for a soft, choking European who is afraid to play down low. -- BG


2. Dwight Howard, C, 25, Orlando Magic
2011 stats: 22.9 ppg, 14.1 rpg, 2.4 bpg, 59.3 FG percentage 26.13 PER
Composite rankings (random order): 2, 2, 3
There's one question to ask yourself when decided where you want to place Dwight Howard: How much do you value defense? Do you see it as the downtime in between offensive possessions (aka the Don Nelson philosophy) or do you see it as an equally important part to the game as offense, and in some cases more important?
The way you lean there tells you what to do with Howard, because he's the league's best defensive player and it's not especially close. He's won three straight Defensive Player of the Year awards and it's not only because he blocks shots and grabs a lot of rebounds. It's really about the shots he
doesn't
block. Officials stats don't keep track of altered shots or probably better, non-attempted shots that might've been taken had Howard not been looming in the lane. But I can guarantee you Howard leads the league in both those categories and it's not close. He changes every game, and does it just by being on the floor.
That makes it sound like he's one dimensional, which isn't accurate. He's not a dynamic offensive player. He scores in brutish ways -- alley-oops, put-backs, easy baskets. He gets it done with little finesse and without a go-to shot. But however it happens, he still averaged 22.9 points a game last year and shot an outstanding 59 percent from the field. He's getting better offensively and at only 25, he still has some space to grow.
If Howard's offense ever catches up to his defense, he'd make a realistic push at the top spot on this list. In terms of how much a game is impacted per night, Howard is king. His win shares are ridiculous (14.4) and his PER is outstanding (26.13). Pretty much any way you want to measure Howard, he lives up. And that's without being as good as he really could be on one end. Now that's scary.
1. LeBron James, SF, 26, Miami Heat
2011 stats: 26.7 ppg, 7.5 rpg, 7.0 apg, 1.6 spg, .6 bpg, 51.0 FG percentage, 27.3 PER
Composite rankings (unanimous): 1, 1, 1

Thoughts from all three of our panel members on the top player in the NBA.

Matt Moore: You probably don't like this. That's OK. We don't like it much, either. LeBron James has showed an arrogance in the past year since The Decision that is so excessive the only way to defend it is to claim that all athletes are arrogant. Even then, it's the matter of degree that gets James in trouble. James never seems to say the right thing, never seems to take the right approach, never seems to put himself in the best light. This is a stunning change from four years ago when he was basically a shadow on the wall that sold shoes. It's a year after The Decision and we saw the best and worst of James. He continued to show the versatility that in large part puts him in this spot. His team made the Finals, and was two games away from a title, as they should have been with all that talent. And yet we saw James "shrink" or "choke" or whatever hyper-dramatic interpretation you prefer. There's no getting around the idea of whether you believe in "clutch" or not, James was not there when his team needed him most. That's pretty damning stuff.

So how did he not only wind up as the top player, but the unanimous one?

Because he's better. Kobe Bryant's age is starting to affect him along with numerous injuries that have slowed him. Dirk Nowitzki is getting older and doesn't have the defensive impact James does (James remains an underrated individual and help defender, which is saying something considering how lauded he rightfully is for it). Rose is still learning to be efficient from everywhere on the floor and to be a better defender. Howard's still growing into his complete offensive game. For James, nothing he does is beyond reason anymore. A 40-point triple-double is conceivable from him (though not on this Heat team barring injuries because of usage). He can make the chase-down block at one end, lob a perfect outlet pass, then recover and jam home an alley-oop after leaving from mid-wing. He can pull-up and nail the mid-range jumper, even as that part of his game is at both still developing and something he turns to far too often. He can hit from the perimeter (ask the Celtics if you don't believe me) and bulldoze his way to the rim to draw the foul (ask the Bulls if you don't believe me). He's a one-man tour de force, able to cover the entire floor, able to play at any position, able to do more than any other player in the league.

That's why he's No.1. Like it or not.

Royce Young: It's kind of a relief that we don't have to have the debate anymore. No longer is it "Kobe or LeBron?" No longer is it a question as to who the league's best player is. We all know. It's LeBron, whether you like it or not.
You can try and talk yourself into someone else. You can try and single out LeBron's failures, his faults and his issues. You can try and point out his curious choke job in The Finals. You can try and devalue him simply because you don't like him. That's all fine. But you can't deny that he's the best player in basketball. He just is. Even trying to fit in alongside two other All-Stars in Miami LeBron put out an incredible season. He still led the league in PER (again), still went for 26-7-7 and still was the single most dangerous player on the floor every night. And before you say, "Oh yeah, well people prove things in the playoffs and LeBron failed!" That's true, but only to a degree. Remember how he handcuffed Derrick Rose for the last two games of the Eastern Finals? Remember how he destroyed the Bulls in leading an incredible Game 5 comeback? Remember how he and Wade worked perfectly in concert in Game 1 of The Finals? It's easy to just forget all the good stuff because of how it all finished. But LeBron didn't completely lay an egg. He just did so in the last three games. Doesn't mean he's not still the best player in the game.
Ben Golliver:
2010-2011 was a boastful, bewildering season for James, who arrived in Miami with unprecedented hype and expectations, only to crash and burn in the NBA Finals as soon as his first title was within reach. The on-court imperfections are clearly established at this point: a difficulty impacting the offense without the ball in his hands, an erratic jump shot, and the occasional tendency to tighten up when the stakes are highest. The off-court annoyances are equally obvious: a lack of self-awareness, a massive ego, and an inability to relate to the common man or to productively process criticism.
Still, judging James or his season solely on his meltdown in the final three games of the NBA Finals would be a huge mistake. Zooming out to view the entire year, he was spectacular as always statistically, posting the top PER in the league despite the fact that he was getting acclimated to an entirely new set of teammates and a new way of sharing top dog priorities with Dwyane Wade. He was a menace defensively, sending the aging Boston Celtics into the past during the second round of the Eastern Conference playoffs and swallowing NBA MVP Derrick Rose whole in the Eastern Conference Finals. James remains the NBA's best and most versatile athlete and saw time at four -- if not five -- positions for the Heat this season. There's not a player in the league who can guard him one-on-one and there's not really anyone that he couldn't defend at least passably.
Even for his critics, who were rightfully gleeful when things fell apart against the Dallas Mavericks, there must be a sense that this was as tough as it will get for James, that the perfect storm of hatred and disgust that followed The Decision will eventually dissipate, leaving James to finally assume the throne he clearly believes belongs to him.