Posted by Ben Golliver.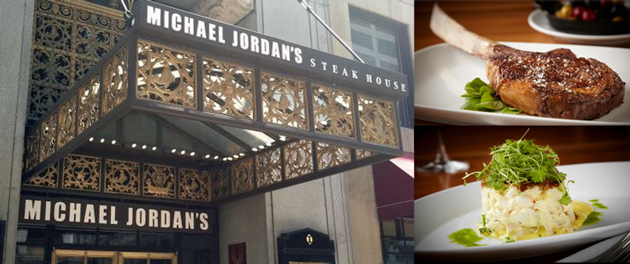 All the food tastes like victory.
Naismith Basketball Hall of Famer and legendary
Bulls
guard Michael Jordan is opening a new steak house in Chicago on Tuesday. And the place sounds pretty awesome in
this description from the Chicago Tribune
.
Michael Jordan's Steak House Chicago will make its debut Tuesday in the InterContinental Chicago hotel (505 N. Michigan Ave. 312-321-8823), taking over that property's sprawling, architecturally fascinating second-floor dining space (which accommodates 160, plus a couple of 20-seat private spaces). The restaurant also is taking over the hotel's lobby-level bar space, which will be expanded to hold 90.

"It's an upgrade, to say the least," says executive chef James O'Donnell.
The restaurant's website,
mjschicago.com
, promises only the best.
Michael Jordan's Steak House Chicago will offer fine dining in a relaxed, approachable backdrop, sure to charm locals and tourists alike. With a penchant for perfection, similar to its namesake, Michael Jordan's Steak House is not satisfied with good, we strive for the best, and the Chicago locale is the latest offering of an evolving brand rooted in excellence.
GrubStreet.com
grabbed a copy of the full dinner menu
, in case you're interested. Highlights include: a $75 shellfish platter of shrimp, crab, oysters, and lobster; a $19 colossal crab cake; $28 lamb chops; an $89, 38 oz. prime porterhouse steak for two; and the $45 MJ's prime delmonico 16 oz. steak dry-aged for $45 days.


TimeOutChicago.com notes
that the restaurant has added a number of gimmicky touches to complete the Jordan experience.
The chocolate cake has 23 layers. The chopped salad has 23 ingredients. The bone-in prime rib-eye steak rings in at 23 ounces. The InterContinental, it seems, is keeping His Airness's legacy alive.
The new Chicago joint joins other Michael Jordan Steak House locations in New York and Connecticut.
Images credit: Michael Jordan's Steakhouse on Facebook

Hat tip: ProBasketballTalk.com