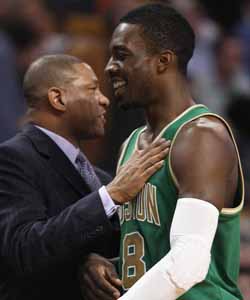 By Matt Moore
Jeff Green
hasn't had the easiest road in the NBA. He was expected to be the Pippen to
Kevin Durant
's Jordan. The problem is that he's a power forward that doesn't rebound (6.0 rebounds per game is his career high, which was two seasons ago), or a small forward who doesn't pass (2.0 assists is his career high, three seasons ago). He's a three-point specialist who's a 34 percent career shooter from the arc. The rebounding is what really gets him in trouble. He's got good athleticism and shows flashes of defensive skill, but has never fit a role. When he was brought to the
Celtics
, though, that was a no-win situation. Replacing a fan and locker room favorite in
Kendrick Perkins
, Green was confusing for those who didn't know him and infuriating for those that did.
But even worse than the struggles with his game is what Green had to do in terms of fitting in with the Celtics, who were a championship core that had been together for four seasons and felt like family. In an interview with Yahoo Sports, Green talked about the reality of how difficult it was walking into that locker room:
"They've been together for a number of years," Green said of the Celtics. "They've already won a championship, they've already have a system, they already have their chemistry and that bond on that team.

"It was tough to go into that situation."
via
Green eyes future with Celtics - NBA - Yahoo! Sports
.
The tone of the interview is definitely not one of "I'm excited to be here and feel we can win a championship." It's more "Look, I got sent here, I didn't ask to come here." Green pretty much stops short of saying "They hated me." He talks about how hard it was to grasp all the defensive concepts in half a season. Green's a professional and has never been a locker room problem. He's a restricted free agent, and if the Celtics match or offer Green the best money, he'll play as well as he can. But sometimes it's just not a fit. Maybe when the current core has moved to retirement Green will have a chance to stretch his wings and become a more complete player.
For now, he's in a dfficult position of having to be something he's not, and being judged by that standard. What's funny is he could lose five points off his per game average if he picked up five rebounds. That's all anyone cares about these days. Defense and rebounding. The offense will apparently take care of itself.
(HT:
SLAM
)