Posted by Ben Golliver.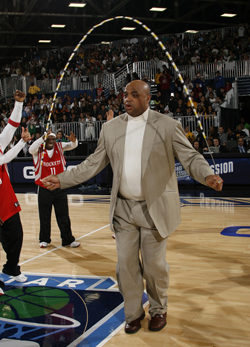 In a curious turn for one of basketball's most beloved personalities and all-time greats, Hall of Fame forward Charles Barkley will not appear in the upcoming NBA 2K12 video game. NBA 2K12 will feature 15 NBA legends, including Michael Jordan,
Magic
Johnson, Larry Bird and Barkley's former teammate with the Philadelphia
76ers
, Julius Erving.
Kotaku.com reports
that game maker 2K Sports negotiated with Barkley about appearing in the game but that a deal was not able to be reached.
"There's no doubt in our minds that Charles is and should always be a key part of the conversation as it relates to who are the NBA's Greatest players of all time," a 2K Sports spokesperson told Kotaku. "We have a very positive relationship with Sir Charles and while we were unable to include him in-game this year for a variety of reasons, we share everyone's hope that he may one day appear in our game."
But why?
Initial statements from 2K Sports said that Barkley's absence was a creative decision, albeit a difficult one. But the fact the game went forward, and was promoted, with Barkley's rookie year team without him—in a game that prides itself on accuracy—suggested otherwise.

Why Barkley couldn't fit in may be due to money, what billing he receives in the game, or a combination of both.
Of the possible explanations presented, money makes the most sense, by far.
Barkley has a healthy ego, but he's not delusional. It's dfficult to imagine he would play the, "Put me on the cover of this game with Jordan, Bird and Magic or I'm not doing it" card. And disputes over the licensing of NBA players are nothing new; Jordan himself has been involved in them for
at least a decade
, if not longer, and
reportedly did not appear
in any games from 2004 until last year's NBA 2K11 for licensing reasons.
That Barkley is the only obvious legend missing -- indeed, we called his early-1990s
Suns
teams the game's
biggest snub
last week -- is pretty disappointing. Not only are the Suns compromised, but the 1985 76ers, with Erving leading the way, will be lacking the younger, more ferocious Barkley. Weak.
Barkley's "round mound of rebound" game and oversized personality are what video game dreams are made of. A natural born populist, it's not often that Barkley finds himself cast in the role as the guy who let everyone down. Who knows? Maybe he will find a roundabout way to blame this on Kenny Smith.