Posted by Ben Golliver.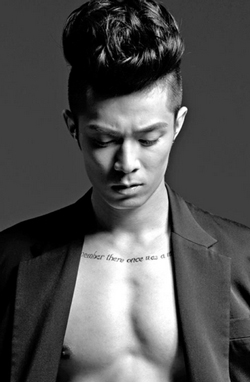 After this summer, there can no longer be any question as to whether the globalization of basketball has been a success. Why not? Because wherever the NBA's best players travel, they keep getting worked by anonymous semi-professionals and non-professionals.
A few weeks back
, Miami
Heat
All-Star forward
LeBron James
decided to jump into an exhibition game between Taiwanese All-Star teams, only to get ripped by his defender and dunked on as he tried to recover in transition. You'll remember that he was so rattled by the exchange that he immediately travelled and threw the ball out of bounds.
Now, Chicago
Bulls
point guard
Derrick Rose
, the NBA's reigning MVP, headed to China on a sneaker tour with adidas. There, he found himself in a game of one-on-one with a relatively famous pop singer from Hong Kong named Pakho.
Pakho, 26, is signed to Warner and
his official website is mostly in Chinese
, but it reveals that he stands 182 centimeters tall, his favorite movies are
Sweet November
and
Notting Hill
and his favorite animal is a cat. Basketball is indeed one of his favorite sports but it is listed after swimming.
Anyway, with those sterling athletic credentials, Pakho finds himself with the ball, being defended by Rose near the three-point line, with a team's worth of players cheering him on, an emcee keeping score and an exuberant crowd watching intently. With a ball fake and then a stutter hesitation, Pakho takes two dribbles to his right, catching Rose slightly by surprise. Rose recovers instantaneously and continues to shade Pakho right. Entirely unafraid, the pop singer leans into a one-handed runner from about eight feet. Rose rises to attempt to swat it but grabs only air, and the ball nestles cleanly through the net, much to the crowd's delight.
The sequence is not nearly as embarrasing as James' string of errors but it's still a touch cringe-inducing. Rose does hit a jumper and throw down a dunk in the clip to establish who is boss, but the damage is done.
Here's the video --
via SlamOnline.com
-- of Derrick Rose getting beaten off the dribble for a basket by Pakho
via YouTuber user logic16x
.
To watch the exchange, cue it up to the 1:15 mark.
Image via AsianFanatics.net.