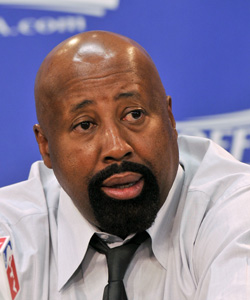 By Matt Moore
Apparently Mike Woodson's interview with the
Knicks
for "defensive coordinator
" went pretty well. The
New York Daily News
reports that Woodson has been telling those close to him that he expects to get the gig. (Side note, who are these people? Family? They're the ones calling up reporters? Is it his pastor? Maybe his dry cleaner? I'm pretty close with my dry cleaner.) From the
Daily News
:
In the past few days, Woodson had told two confidantes that he expects to join the Knicks. The move might become official next week, according to sources, when Garden and team executives return from vacation. Woodson had what he called a good meeting with D'Antoni earlier this month, but he had people above D'Antoni in his corner from the start.

Woodson's hiring was recommended by Isiah Thomas, a long-time friend and former teammate who continues to serve as Garden chairman Jim Dolan's top unpaid consultant.
via
Knicks ready to add former
Hawks
head coach Mike Woodson as defensive coach on Mike D'Antoni's staff.
Oh, thank Goodness. I was worried that the Knicks were making decisions based off the recommendations of their former G.M. who is considered one of the worst executives in the history of pro sports and managed to drag the organization into a sexual harrassment suit. But it was just Isiah Thomas.
Woodson pulled the Hawks up from 18th in defensive efficiency in 2007-2008 to 13th in his final season with the Hawks, before being released in search of a different direction (or however you'd like to characterize Larry Drew). He's not a defensive mind on par with Tom Thibodeau or Lawrence Frank, but in reality, the change of emphasis for the Knicks is really what's important. The only question is if the principles of Mike D'Antoni's offense, even if it's modified to fit this specific set of players, will hinder Woodson's ability to to draft a scheme, should he in fact get the job.
Woodson may not be a long-term answer for the Knicks, however, as he did interview several times in the last few months for head coaching positions. If nothing else, he'll make a prime candidate to see how D'Antoni handles a defensive assistant who is outside of his usual circle of assistants.